A Plantation gym owner arrested multiple times last year for refusing to enforce Broward County's COVID-19 mask mandate at his business officially had his charges dropped Tuesday.
The Broward State Attorney's Office formally dropped the charges of failing to comply with an emergency order against Fitness 1440 owner Mike Carnevale during a court hearing.
"Some really amazing lessons learned, I don't regret it at all, if I could do it all over again I would," Carnevale said after the hearing.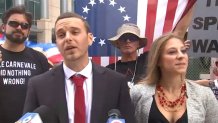 The hearing came less than a week after Florida Gov. Ron DeSantis granted clemency to Carnevale, who was initially taken into custody in July 2020 after receiving two warnings and citations for allegedly refusing to require masks in his gym.
Carnevale was arrested a total of three times for refusing to enforce Broward County's mask mandate. His wife Jillian was also arrested.
If convicted, he was facing up to six months behind bars.
During a Fox News appearance where both Carnevale and his wife were being interviewed, DeSantis called the arrests a "total overreach."
"The fact is it's not even right to be wearing masks when you're exercising," DeSantis said. "It's not healthy for people to be doing that in the first place, so it was a bad restriction, but these things with health should be advisory, they should not be punitive."
The Governor added that the state's clemency board would issue pardons to all Floridians who received fines for masks and social distancing violations during the pandemic.
Carnevale and his wife closed their gym but said they hope to reopen in a new location soon.