Police have made an arrest in connection with the death of a missing teen girl whose body was discovered Sunday night along a causeway near a Miami harbor, NBC 6 has confirmed.
Detectives arrested 60-year-old Jose Fimia for his involvement in the fatal hit-and-run crash that resulted in the death of 16-year-old Diani Gomez Sanchez, according to the Miami Police Department. The Miami teen was killed after leaving home early that morning for a run.
Authorities arrested Fimia after driving around the area of 7800 NE Bayshore Court -- a location near where the victim was struck and killed by a gray or silver car, police said.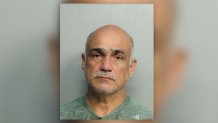 A sergeant noticed a silver Toytota Corolla parked across the street and found that damages on the vehicle were consistent with the hit-and-run fatality.
Witnesses told police that they saw the suspect's car with a damaged windshield, scrapes along the side and a broken headlight.
They also saw blood on the car and a few strands of hair on the windshield.
They told police that Fimia had been pacing back and forth and had admitted to "hitting something."
Police say Fimia and his sister changed the car's tire in an attempt to hide evidence.
Family members say although they're relieved, the arrest won't bring Diani back.
"You killed my family. You made us suffer," the family said.
Fimia faces a list of charges including vehicular homicide, leaving the scene of a crash and driving with a suspended license.