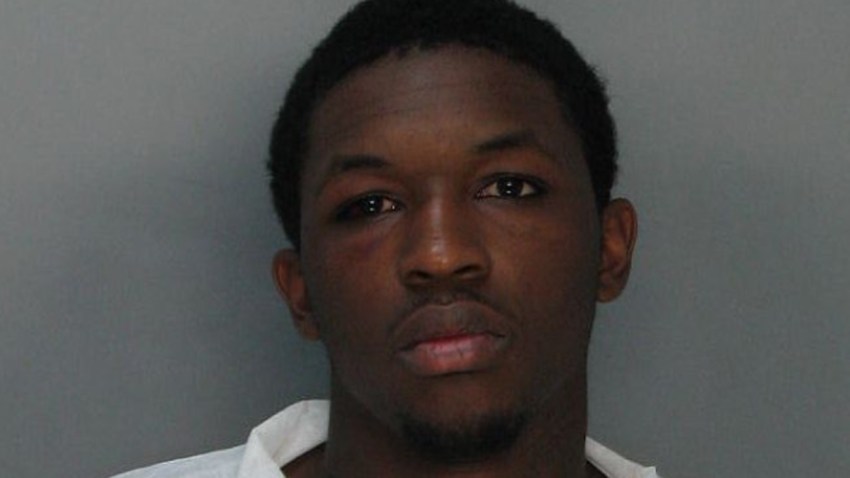 Miami-Dade Police said Tuesday night that they arrested and charged Anthawn Ragan Jr., 19, with first-degree murder with a firearm in the fatal shooting of a 10-year-old boy at a northwest Miami-Dade nail salon.
Ragan also faces charges of armed robbery with a firearm, aggravated assault with a firearm and attempted first-degree murder with a firearm in the incident, police said. He was being held without bond early Wednesday.
Aaron Vu died from his injuries after he was shot when Ragan and a suspect still at large barged into the nail salon at 14832 Northwest 7th Ave. Friday night, according to police.
The boy's father, Hai Vu, 42, was shot and is recovering at Jackson Memorial Hospital.
Police added that Ragan became violent with officers when he was apprehended Tuesday and so was charged with battery on a law enforcement officer.
He was taken into custody at a family member's home on his 19th birthday, police said. He was picked up around 6 a.m. and was questioned at Miami-Dade Police headquarters in Doral, sources said. He is linked to a robbery in North Miami and has a long criminal history, sources said.
While Ragan was being processed Tuesday night, hundreds of people came together at the nail salon for an emotional tribute to Aaron Vu that included prayers and remembrances.
Skyyler Murray recalled his friend's last words.
"We were on the playground, we were playing tag. He told me, he told me that you're faster than me," he said.
The Vu family's church pastor tried to ease the pain, as children cried over their loss.
"Aaron was my best friend and I'm going to miss him," one girl said, barely able to get out the words.
Hai Vu said Tuesday afternoon that no family should go through the pain and agony that his family has been suffering. He gave a brief statement at Jackson.
The father said he asks himself in the hospital every night, "Why did this have to happen? Why couldn't it just have been me?"
"They killed an innocent child," he said, before trailing off as he shook his head.
Vu – who began his remarks by thanking the community, law enforcement and family and friends for their support – then apologized and thanked everyone again as he ended his statement.
On Friday the suspects took cell phones and handbags and fired into the store as they fled, police said.
Hai Vu was in the intensive care unit earlier Tuesday, but he felt so strongly about giving his message to the public that he was able to convince the hospital's administration that it had to be done, family members said.
He did not learn that Aaron had died at the hospital from his injuries until Monday, three days after the shooting.
"We hope my son's death will not be in vain. That something will come out of this in the future that will greatly reduce senseless acts of violence in our community," Hai Vu said. "No family should have to go through such pain and agony like what my family's going through."
Family members made an emotional plea to the community Monday asking for anyone with information to come forward.
"Please help us find these perpetrators and call the tip line. Please do this for Aaron so there will be no innocent human beings or children [who are] like Aaron," great-aunt Phuong Pham said. "Please, please do it for Aaron."
After announcing Ragan's arrest Tuesday night, police said they would speak further about the case Wednesday morning at Miami-Dade Police headquarters.
Miami-Dade Crime Stoppers is offering a $25,000 reward for information leading to an arrest. Police said they have received many tips through Crime Stoppers and continue to urge the community to provide information as they look for the second suspect.
Anyone with information is asked to call them at 305-471-TIPS.
More NBC6.com Stories: