A man who opened fire on his ex-girlfriend and her new boyfriend in a car in southwest Miami-Dade late Wednesday turned himself in, police said.
Miami-Dade Police officials said the shooting happened around 11 p.m. in the area of Southwest 50th Street and 98th Avenue.
Carmen Castro, a neighbor, said she heard seven gunshots.
"I proceeded to look through all the windows to see what was happening," she said.
The victims drove to a gas station near Bird Road and Southwest 107th Avenue, where Miami-Dade Fire Rescue was called. The victims were transported to Kendall Regional Medical Center.
The 30-year-old male victim was in critical condition while the 23-year-old female victim was in stable condition. Police did not release their identities.
A short time later, a man turned himself into police as the shooter in the incident and was taken into custody. A firearm was also recovered.
The alleged shooter, 23-year-old Jonathan Clemente, was the woman's ex-boyfriend and admitted to investigators that he was upset about her new relationship.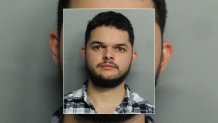 Clemente is facing attempted murder charges. Attorney information wasn't available.