A husband and wife were tied up and their 5-year-old child was left unharmed during an armed home invasion in southwest Miami-Dade Monday morning.
The incident happened around 8 a.m. at a home near the 3000 block of Southwest 130th Avenue, Miami-Dade Police said.
Officials said a 34-year-old mother was taking her daughter to school when they were approached by two men in masks who ordered them to go back inside their house.
Once inside, the woman, and her 53-year-old husband who was also inside, were tied up, police said. The child wasn't harmed but police said the father was assaulted by the suspects and suffered minor injuries.
The woman's sister said at one point her niece was kept in a closet while the suspects ransacked the house.
"They put them on the floor in the entrance of the house and they tied them up and then they put them in the bathroom," Julie Fernandez said. "I guess, my sister's husband said he had a watch and when they couldn't find a watch, they beat him."
Police said a neighbor was able to call 911.
"This could have been terribly worse," Miami-Dade Police spokesman Alvaro Zabaleta said. "These are images that are gonna be hard for that 5-year-old to be able to erase from her memory."
Both suspects fled with some of the family's property and their Land Rover Discovery, which was later found abandoned about two blocks from the home.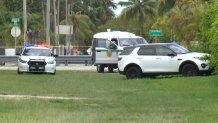 No other information was immediately known.
Check back with NBC 6 for updates.