Police released a snippet of surveillance video that shows the moments leading up to the murder of a 17-year-old in northwest Miami-Dade.
Loved ones gathered at a memorial and balloon release Friday at Charles Hadley Park to remember Cairi McNear, who was gunned down May 4 outside an apartment complex on the 7100 block of 14th Place before heading to school.
"I want people to remember that Cairi was the life of the party," said his mother, Aurianna McNear. "He was full of life and full of energy because God knew that his life would be taken so short."
Stay informed about local news and weather. Get the NBC 6 South Florida app for iOS or Android and pick your alerts.
A 15-year-old was arrested in connection with the shooting. He faces second-degree murder charges.
The surveillance video shows the suspect with a gun. According to an arrest report, the suspect got into an argument with McNear, and then pulled a gun out of his pants and shot him multiple times.
Police say the accused shooter then took off on a minibike.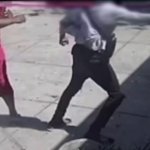 Aurianna McNear told NBC 6 on Tuesday that the suspect's arrest is "bittersweet."
"There's nothing comforting about that, knowing that another mother is going through the same pain that I'm going through," she said. "She lost a son, and I lost a son."