A 14-year-old boy was rushed to the hospital Friday after he was hit by a car that fled the scene in Pompano Beach.
The incident happened just before 3 p.m. in the 1200 block of Northwest 6th Avenue, near Blanche Ely High School, according to Broward Sheriff's Office.
The teen suffered serious injuries and was transported to a nearby hospital, BCSO spokesperson Gina Carter says. His injuries were non-life threatening, officials said. He suffered road rash and cuts to his body.
Authorities say the teen was struck by a four-door car, believed to be a 2016-2017 Genesis G80 with South Carolina tag EN306, and they are searching for the driver. The car may have damage on the front passenger side.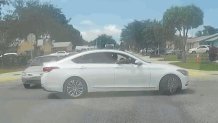 A witness told NBC 6 that they saw the car possibly involved in the incident doing doughnuts in the area of Northwest 10th Street and 6th Avenue shortly before the crash. The witness said the teen had been on a bicycle.
Breaking update: Witness said suspect car doing doughnuts at NW 10 st/ 6 Ave intersection prior to hitting teen crossing the street. @NBC6 pic.twitter.com/BYg9vEcYZs

— Michael Spears NBC6 (@MikeSpearsNBC6) April 21, 2017
"It was driving slowly then when it got in the middle it started going in circles about three or four times then it came zooming," explained witness Dontavius Mack.
Anyone with information regarding the hit-and-run can call Broward County Crime Stoppers at 954-493-TIPS.