Police are searching for a missing teenage girl that was last seen on May 6th in Miami.
The 16-year-old girl, Mahogany Porter, was reported missing from 1523 NW 1st Court. She was last seen wearing a multicolored sweater, black and white pants with green crocs.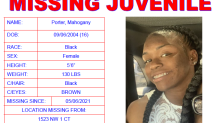 Anyone with information on Porter's whereabouts is urged to contact the Miami Police Department at 305-603-6300 or 305-579-6111.