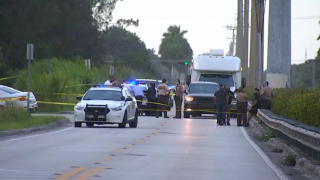 Police are investigating and asking the public for more information after a person was shot and killed in broad daylight Monday in southwest Miami-Dade.
Miami-Dade police officers responded at around 5:45 p.m. to the area of Bird Road and Southwest 159 Avenue, where a passerby attempted to help a male who was shot and lying on the ground. Paramedics later pronounced him dead at the scene.
Preliminary information says a group of males ran eastbound on Southwest 40th Street, jumped into a car and drove away after the shooting.
The shooting happened in an area that's isolated and located behind a residential part of Miami-Dade, but heavily traveled in the afternoons and evenings. Police are hoping for any witnesses to come forward.
Vilma Obando saw it all unfold from her home office window. She says it started with an altercation between several people and then she heard at least four gunshots.
"I peeked out my window, and that's when I see a gentleman pointing a gun at a car and I'm hearing a bunch of shots going off and all of this commotion going on," Obando said. "The car is trying to back out and leave and I lose sight of the individuals that were shooting at this car."
The witness believes the car involved is a white pickup truck. She says suspicious activity often happens in the wooded area across the street from the canal where the shooting took place.
"There's always activity going on. At night it becomes very dangerous there are a lot of ATV's running and cars that park there in middle of the night and we're not sure what they're doing," she said.
Anyone with information should call Crime Stoppers at 305-471-TIPS.