Weeks after a Pompano Beach woman disappeared under concerning circumstances, authorities have arrested her husband and charged him with first-degree murder in her death.
A Pompano Beach man has been arrested on a first-degree murder charge in the disappearance and death of his wife, authorities said.
Ian Lanning, 54, was arrested Saturday in the killing of his wife, 53-year-old Irene Lanning Xeniti, Broward Sheriff's Office officials said.
According to investigators, a missing person alert was issued for Lanning Xeniti on May 30 after she was reported missing by her daughter.
Stay informed about local news and weather during the hurricane season. Get the NBC 6 South Florida app for iOS or Android and pick your alerts.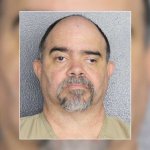 Prior to the alert, BSO detectives had responded to Xeniti's home located at 32 Northeast 23rd Avenue in Pompano Beach, where she lived with Lanning.
Lanning told the detectives that his wife had left home on May 14 following a verbal dispute, according to officials. Lanning also said Xeniti had not returned to the residence since and that she had not made contact with him.
Missing persons unit detectives searched for Xeniti before the case was transferred to BSO's Homicide Unit on June 2.
Detectives were able to determine that Xeniti's phone was in the vicinity of the couple's home at around 1 a.m. on May 21. Detectives also obtained information that indicated the couple had been traveling in the same area on May 20, according to BSO.
On June 8, a search warrant was obtained and executed at the couple's residence. Detectives also obtained and executed a search warrant on Lanning's vehicle.
During the search, investigators located evidence that suggested Xeniti had been murdered in the couple's home and that her body had been disposed of in an unknown location.
A warrant for Lanning's arrest was issued on June 11, and he was taken into custody and transported to BSO Main Jail. He is facing one count of first-degree murder.
One woman, who didn't want to be identified, said she had a conversation with Lanning on Friday, a day before he was taken into custody.
"He's like' my wife and I are getting divorced, she packed her things weeks ago, I have not seen her since or spoke to her,'" the woman said. "He goes, 'it's not that big of a deal, it's always the spouse they look at first.'"
Lanning Xeniti's daughter left a message on social media about her mother.
"Momma I love and miss you so so much I know you are proud of me I just wish I could have hugged you and talked to you one last time," she wrote. "My heart aches in such an unexplainable way but he will be judged accordingly and you will have justice."
Detectives are asking anyone with information regarding this case or the whereabouts of Xeniti's remains to contact BSO at 954-321-4200.
If you wish to remain anonymous, please contact Broward Crime Stoppers at 954-493-TIPS or online at browardcrimestoppers.org.