A Port St. Lucie woman accused of paying a child for sex is under arrest, according to the police department.
38-year-old Rebecca McGraw, who is an assistant manager at Sail Pointe Apartments, became sexually involved with a child who lives at the complex, detectives said.
She paid up to $300 for the encounters, Port St. Lucie police said.
Investigators also said McGraw let the child use her debit/credit card and drive her vehicle.
She admitted to 5 sexual acts with the victim, according to the police department.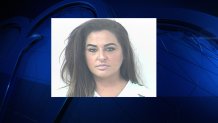 Detectives have charged her with 5 counts of unlawful sexual activity with a minor under the age of 15.
Bond was set at $25,000 for each count.
This story is courtesy of our news partners at WPTV.