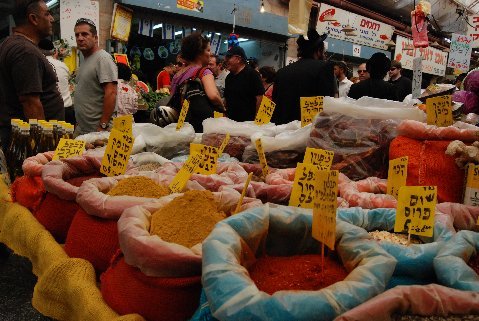 It's our last night in Israel, I'm looking at the magnificent Mediterranean coast of Tel Aviv from my hotel window, and I'm thinking of a guy I just met downstairs. Albert Cohen lives in Palmetto Bay. The key word there is "lives" since Cohen came within inches of dying two years ago. Terrible traffic accident. Airlifted to the trauma center. His family was notified that he would not survive. But he got through the critical first days, the surgeons at Jackson put him back together, and he promised his rabbi and cantor that if he recovered, he would go to Israel with them. They prayed for him, and Cohen kept his word. He told me when he saw the Western Wall for the first time, when he touched the huge stone blocks, he couldn't hold back. Tears just flowed, he said, and at that moment, he thanked God for letting him be there.
A special moment, but not an isolated one. The truth is, many people have an emotional experience when they come to Jerusalem. The city has been the crossroads of religion for so many centuries, holy to Jews, Christians, and Muslims, that just being here is a weighty experience. You can literally feel history bearing down on you. The air seems heavier, but every breath you take in the Old City feeds your spirit, whether you're praying at Judaism's most holy site, the Western Wall, or walking in the footsteps of Jesus, or praying at the Dome of the Rock, which covers the spot where Muslims believe Mohammed ascended to Heaven and where Abraham nearly sacrificed his son, Isaac. The Bible isn't abstract here, it's practically a guide book.
My family and I joined more than a hundred other people from South Florida on a ten-day tour of Israel organized by the Greater Miami Jewish Federation. We're talking four huge buses schlepping us from north to south, from the Negev Desert to the Golan Heights to Jerusalem to Tel Aviv, mini cruise ships pulling into tiny cobblestoned streets designed for donkeys, spewing out tourists. You feel like a conquering army flooding into the market, ready to take over the little shops that all sell the same things. The shopkeepers salivate. Nothing like a bunch of American souvenir-seekers to boost the bottom line!
Our trip included all the highlights you might expect on a trip to the Holy Land: exploring the Old City of Jerusalem, the famous mountaintop fortress of Masada, floating in the Dead Sea, rafting down the Jordan River, marveling at the impossibly crowded and fascinating Mehane Yehuda marketplace, and absorbing the solemnity of the Yad Vashem Holocaust museum. (One Holocaust survivor in our group found a picture of himself as a concentration camp inmate in the museum.) But we've experienced so much more, which is one of the benefits of going on a massive group tour. For instance, tonight a teenage circus group performed for us. Half of the kids are Arabs, half are Jews. They're part of an effort to promote understanding and harmony between Israel's mozaic of ethnic groups. Earlier, we went to a community center (supported by Miami's Jewish community) that helps Israel's Ethiopians deal with the pressures of modern society. We planted olive trees. We even spent a couple of hours picking tomatoes. No joke, on a brutally hot day, we were in the fields, stooping low to pick tomatoes, and loving it. It was for a charity called Table to Table, which relies on free labor (us!) to provide food for the needy.
One day the military doctor who commanded Israel's field hospital in Haiti gave us a riveting lecture. Filmmakers, take note: his team's efforts to set up and treat the wounded after the earthquake would make a great movie. He literally had half of us in tears at breakfast. Another day, we went on an archaeological dig that had all of us humming the tune from "Raiders of the Lost Ark". I had just told my seven-year-old son the old line that if you stick a shovel in the ground in Israel, you're likely to hit something ancient. Sure enough, within one minute of digging with a little pick, thunk! He found a two-thousand year old chunk of pottery. Turns out the site called Bet Guvrin is so rich with artifacts, everyone finds something. Awesome place to rock your inner Indiana Jones!
We rode camels, like all tourists are commanded by law to do, had lunch with Bedouins in a tent, zip lined down a mountain, and rode ATVs in the Golan Heights really close, about a Hanley Ramirez home run away, from the Syrian border. We had a huge catered party in a desert canyon near Masada. That was just freaky cool. But for me, the most interesting part of the trip was taking the Western Wall Tunnel Tour. It takes you under ground, under old buildings, along the famous retaining wall of the Temple Mount, which is where the Second Jewish Temple stood until the Romans destroyed it. The tour itself is archeaologically enlightening, it puts the city of Jerusalem in the time of Jesus in context, it's spiritually moving, and it lets you out (daytime only) on the Via Dolorosa in the Arab Quarter so you can do some shopping in the colorful market there.
Anyway, I could go on and on about our experiences on this trip. Let me give you some quick observations about Israel, since I hadn't been there in 19 years:
> Unlike the U.S., this country doesn't have an obesity problem. Everyone seems skinny.
> Surf's up in Tel Aviv! Who knew hundreds of surfers spend their days on the city's beaches, catching the Med's swells?
> They're crazy about grapefruit juice. Every meal had a pitcher of it on the table.
> The papers are still full of commentary, argument, and analysis of the Flotilla Fiasco incident which has poisoned relations with Turkey. The people and the news media here don't hold back with their criticisms of the government and the military, proving the vibrancy of Israel's democracy. Israeli's I spoke to have the perception that no matter what it does, their country will face sometimes unfair condemnation from countries that share Israel's democratic values, while Israel gets no credit from those same European countries.
> Everyone lives with the cloud of war possibly breaking out at any time, yet when you see the crowded cafes of Tel Aviv and the bustling shopping areas of Jerusalem, you realize the people just collectively shrug and roll with it. There's so much of a Las Olas/Lincoln Road feel here, it makes you wonder how South Floridians would react if we were under constant threat.
It must be said that our group did not venture into the Palestinian areas. I can't give any first-hand account of what life is like these days for the average citizen in a West Bank town. I can say there's constant debate in Israeli society about the right course to take to make peace with the Palestinians. There's a lot of pessimism, but glimmers of optimism, too, because some commentators here say the Gaza blockade issue may paradoxically provide an opening for a bold peace move. We'll see.
Anyone considering a trip to Israel who's scared to come for security reasons shouldn't worry. Once you're here, it feels like Europe or even Miami, except there always seems to be a soldier nearby with an M-16 on his or her shoulder. My advice: unless there's a war going on, don't hesitate. Open your mind to the reality of this country, not the stereotype you may already have in your head.