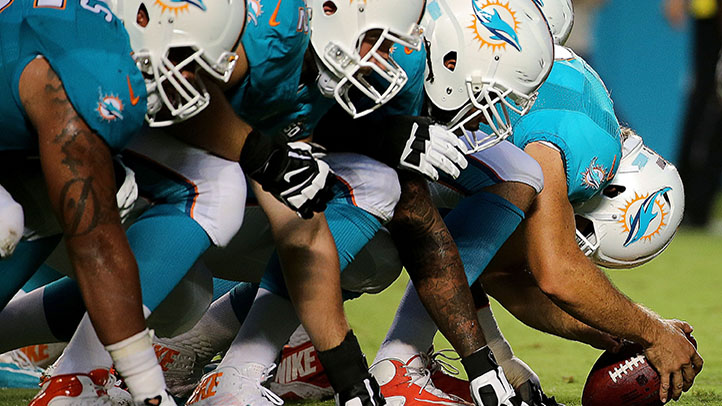 The Miami Dolphins will play one more preseason game and it will take place on Thursday against the Tampa Bay Buccaneers.
Thus far in the preseason, the Dolphins are 1-2 and are coming off a win in their last game. Miami has played well on both sides of the ball in the first three weeks of the preseason.
Following this exhibition tilt, the Dolphins will began preparation for their first regular season game against Washington. This preseason game may not feature much time from the starters, but it will help make some final roster decisions. The most important thing for Miami is to come out of this game with no additional injuries.
After lighting up the stat sheets in three preseason games, it is expected that Ryan Tannehill will see a rather light workload in this one. With a full first half of play in his last game, Tannehill showed that he is ready for the season. The arm strength and the accuracy is there, not it is just about staying healthy.
Ever since Louis Delmas went down with a season-ending injury, there has been a starting job available. Walt Aikens and Michael Thomas will battle once again to see who lands the starting safety gig. Whoever performs better in this finale could ultimately get the nod in the first week of the season.
Incumbent kicker Caleb Sturgis saw punter Brandon Fields released this week and knows the pressure is on him going into this one. Andrew Franks is in camp as a rookie much like new punter Matt Darr. This game could decide if Miami goes with Franks or Sturgis for the regular season. The team has shown that it is not afraid to hand over the reins to a rookie.
One more competition to watch is between several linebackers. Zach Vigil, Jeff Luc, Neville Hewitt and Mike Hull are all competing for a spot on the final roster.
Thursday's game is set to begin at 7 p.m.