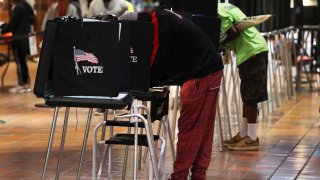 Election Day is Tuesday, and some voters may experience some problems when casting their vote - from long lines and technical issues to voter intimidation.
NBC 6 and Telemundo 51 want to hear from you.
If you see any problems at your polling place, please fill out the form below. Our team will look into your complaint and contact you.
If you are voting by mail, your ballot must be received by 7 p.m. on Election Day. You can track down your ballot online here in Miami-Dade and Broward.
You can also send an email to wtvj-t51-elex-hotline@nbcuni.com or text us at 954-329-9150 to submit your problem.
For app users, click here to submit your problem at the polls.