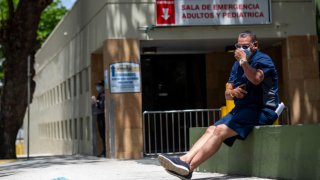 Puerto Rico has announced a record $777 million financial package to help alleviate the economic impact of the coronavirus in the U.S. territory.
The package is the biggest so far compared to any U.S. state.
Gov. Wanda Vázquez said Monday there will be a 90-day moratorium for mortgages as well as car, personal and commercial loans. She also announced a flurry of bonuses including ones ranging from $2,000 to $4,000 for nurses, police and other emergency workers.
The announcement comes amid a 13-year recession on an island that is still struggling to recover from Hurricane Maria and a string of recent strong earthquakes that together caused billions of dollars in losses.
AP and NBC 6