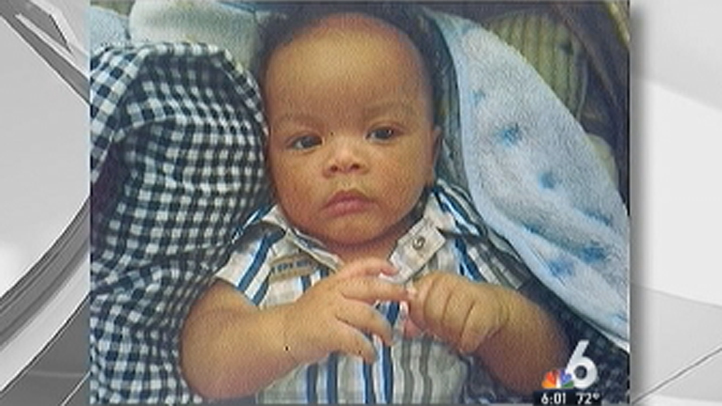 The remains of a baby whose disappearance wasn't reported for a year and a half were found buried in a shallow pit behind a Hallandale Beach home with a blanket and diaper, according to a recently released autopsy report.

Dontrell K. Melvin was about six months old when he was last seen alive in July 2011, according to the March report from Broward County Medical Examiner Dr. Craig Mallak, obtained Tuesday by NBC 6 South Florida.

The baby's body was discovered in a shallow grave in the backyard of 106 Northwest 1st Avenue on January 11 of this year, about 18 months after he was last seen. His parents, Brittney Sierra and Calvin Melvin, are both facing charges related to the death.

Authorities said Melvin and Sierra blamed each other in the boy's disappearance and each provided officers an area to search.

According to the report, the boy's skeletal remains were found in a pit that was about 9-12 inches below the ground at the former home of Sierra and Melvin. Also found with the body were a blue, pink and brown floral patterned blanket, a white cotton and polyester piece of clothing, a diaper and a Budda charm, the report said.

The child was less than eight months old at the time of his death, which was ruled a homicide caused by "violence of undetermined means," the report said.

Sierra, 21, who is also pregnant, is charged with neglect with bodily harm. Melvin, 27, faces two charges of child neglect and three charges of providing false information to police during the investigation of the disappearance. Melvin is being held at the Broward County Main Jail in Fort Lauderdale on $158,300 bond, according to online jail records, while Sierra is being held at the facility in North Broward on $100,000 bond.

Both have pleaded not guilty to the charges.

During a hearing Tuesday, Sierra's attorney, Dohn Williams, said he's trying to have Sierra moved or released on bond before her child arrives.

"The clock is ticking and she's due to give birth any week now," Williams said. "Unfortunately, I haven't found a suitable placement for her. She stays where she's at and she'll give birth I guess at Broward General Hospital and then go back to jail unless a miracle happens between now and that time."