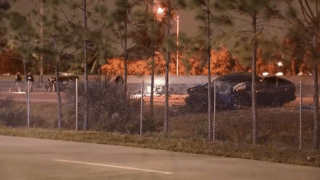 A wrong-way crash on a major roadway in Miami-Dade killed one woman and sent another person to the hospital early Monday morning.
Florida Highway Patrol crews investigated the crash in the eastbound lanes of the Palmetto Expressway near Northwest 47th Avenue that took place just after 2:30 a.m.
Investigators say a Mazda was traveling westbound in the eastbound lanes when it collided with a Dodge pickup truck, causing the truck to roll over.
The female driver of the Mazda, identified as 28-year-old Amelia Thompson, was pronounced dead at the scene while the driver of the Dodge was taken to Ryder Trauma Center with non-life threatening injuries.
Officials reopened the roadway shortly after 7:30 a.m.