Thousands of runners and walkers were set to take over the streets of Downtown Miami Thursday evening for what's being called Florida's largest office party. This year, more than 900 companies are taking part in the fun run with nearly 30,000 people expected to partake in the fun run.
The Mercedes-Benz Corporate Run kicks off at 6:45 p.m., prompting many street closures, which began at 2 p.m. The roads will fully reopen at 9 p.m.
The 5K gets under way from the southern end of Bayfront Park, making its way west on Southeast 2nd Street, then follows the water along North River Drive, before sweeping back on 5th, 3rd, 2nd, and 4th Streets and finally finishing at the northern end of Bayfront Park.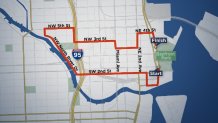 Drivers can expect some big delays on the north and southbound lanes of I-95 near the area and along Biscayne Boulevard.