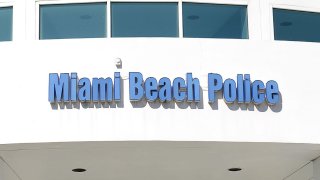 Miami Beach Police are looking for a person they say pulled a gun on a man and his pregnant wife before taking money they had just withdrawn from the bank to pay their rent.
A report shows the incident took place Tuesday, when 29-year-old Eli Sarceno and his 24-year-old wife, Kimberlyn Hernandez, were walking north on Pennsylvania Court to their apartment near Euclid Avenue after taking $600 from a nearby ATM.
The couple told police a person approached them and pulled out a firearm, pointing it at the six-month pregnant Hernandez and demanding the money.
Hernandez handed the money over to the robber, who later hit Sarceno in the face before fleeing the scene.
Sarceno fell over a scooter and suffered a cut on his nose. He was treated at the scene and not hospitalized. Hernandez was not injured.
Anyone with information is asked to call Miami Beach Police or Miami-Dade Crime Stoppers at 305-471-TIPS.