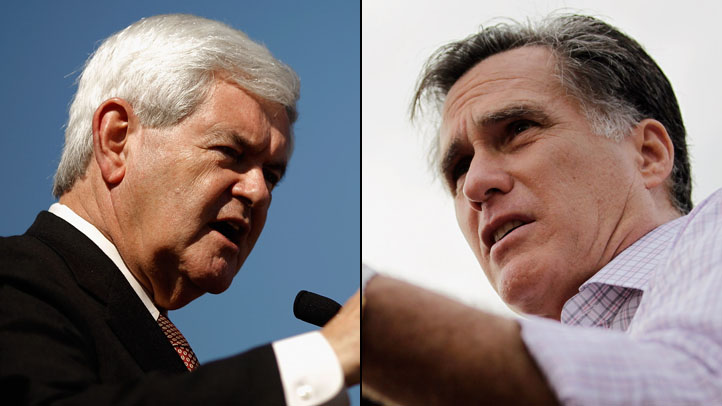 A day before Florida Republican voters will head to the polls, favorites Mitt Romney and Newt Gingrich will be crisscrossing the Sunshine State in their last ditch effort to gain support for the primary Monday.

Romney will be holding rallies in Jacksonville, Dunedin and The Villages, while Gingrich was scheduled to make appearances in Jacksonville, Pensacola, Tampa, Fort Meyers and Orlando.
A Quinnipiac University poll released Monday showed Romney with a 14-point lead over Gingrich among likely GOP voters.
Romney was favored by 43 percent of respondents, while Gingrich was favored by 29 percent, with a margin of error of plus or minus 4.2 percent.

While an NBC News/Marist poll released Sunday showed Romney with a similar lead of 42-27 percent among likely Florida primary voters, Romney continued to take the offensive on Gingrich.

"His record is one of failed leadership. We don't need someone who can speak well perhaps or can say things we agree with, but does not have the experience of being an effective leader," Romney said of the former House Speaker during a rally in Pompano Beach Sunday.

Gingrich mounted his own attack Sunday, calling the former Massachusetts Governor "somebody who is a pro-abortion, pro-gun-control, pro-tax-increase liberal."

Gingrich also criticized Romney for "carpet-bombing with negative ads" and accused him of lying.

"I don't know how you debate a person with civility if they're prepared to say things that are just plain factually false," Gingrich said.

The attacks led Romney and fellow Republicans to fire back.

"Mitt Romney is man of impeccable character," said New Jersey Gov. Chris Christie in a statement. "It offends me that Newt Gingrich would attack the character of Mitt Romney."

Romney continued to hammer Gingrich on his ties to Freddie Mac, the federally-backed mortgage company that paid Gingrich's consulting firm over $1.5 million over a period after he left Congress in 1999.

"Your problem in Florida is that you worked for Freddie Mac at a time when Freddie Mac was not doing the right thing for the American people, and that you're selling influence in Washington at a time when we need people who will stand up for the truth in Washington," Romney said at a rally in Naples.

While Romney and Gingrich continued to duke it out in the Sunshine State, Rick Santorum left the campaign trail to be with his three-year-old daughter Bella, who was admitted to a hospital in Philadelphia with pneumonia.

Texas Rep. Ron Paul hasn't been campaigning in Florida and has been looking ahead to the next primary, in Nevada.
Copyright AP - Associated Press