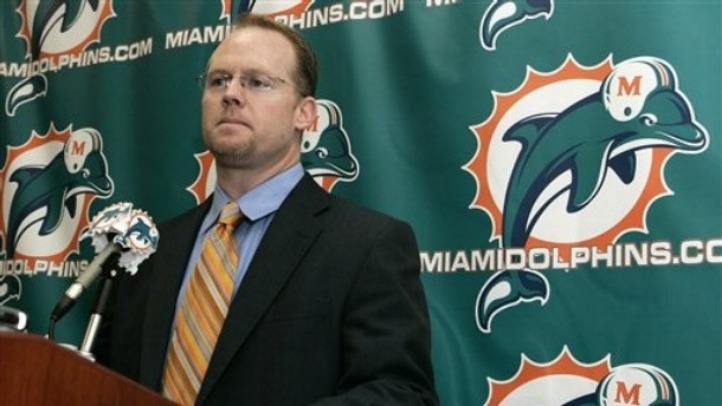 Miami Dolphins owner Stephen Ross continued his PR blitz on Monday, speaking with media at the annual NFL owners' meeting at the Breakers in Palm Beach. He loudly defended his team's rebuilding effort and offered a positive assessment of general manager Jeff Ireland that will probably do little to sate his many critics in South Florida.
"I think it's unfair," Ross said of the criticism lobbied at Ireland. Calling the team an "unfinished product," he added, "If you look at his past, he's done a great job with the draft. He's a great talent evaluator, as hard working as anyone as I've ever met, as smart as they come on the football side."
Ireland joined Ross for the press conference, and said the criticism "comes with the job," but added, "We've got to do a better job of communicating with our fans and making sure we're more transparent in what we accomplish."
But when asked what the Dolphins' plan is, Ireland was evasive. "I'm not going to get into exactly what the plans are," he replied "We are trying to attack our musts," like re-signing DT Paul Soliai (which the team has done) and keeping the interior defense intact. His response did not exactly reveal that the Dolphins have a thorough plan to regain competitiveness.
Ross also stressed that the team is not done rebuilding, and the offseason overhaul is far from complete. "To judge at this point in time is not the right thing to do by anybody."
Ross said the team will still look to "upgrade" at quarterback, ostensibly through the draft. He added, "I'm very excited about [returning starting quarterback] Matt Moore. As he got more experience, the team got better. That's a good place to start." Ross is surely part of the minority on the issue of Moore, judging from the anger of fans who wanted the team to sign Matt Flynn (now with the Seahawks) to start in his place.
But Jeff Ireland implied to the media that Flynn was not necessarily an upgrade over Moore. "In our estimation, there was one franchise quarterback who came available," i.e., Peyton Manning. "Other than that, a lot is to be said for Matt Moore. I have a lot of confidence in Matt Moore."
As with Ross' phone call with a season ticket holder last week, he and Ireland have placed themselves in a situation that offers no short-term winning strategy. Having destroyed their fans' goodwill through years of poor performance on the field, nothing Ireland and Ross can say will get the fans back on their side unless it accompanies more wins. They will have to wait until at least this fall for that outcome, and probably longer, considering their track record.