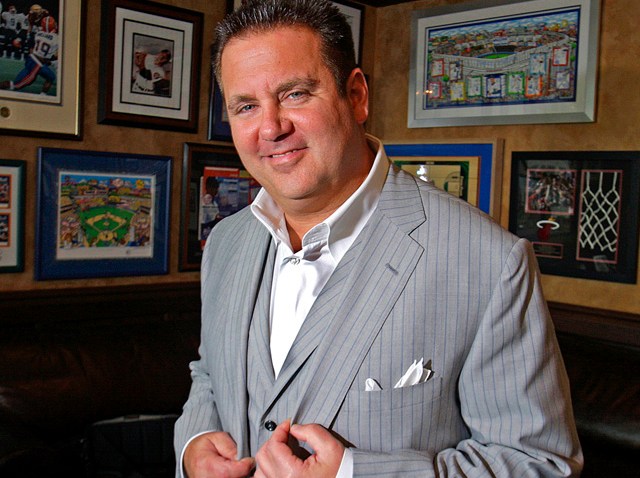 It's little wonder Ponzi schemer Scott Rothstein has gone into hiding -- his whereabouts unknown -- after it was revealed he ratted out former associate and reputed mobster Roberto Settineri.
After all, if Settineri would flash a gun and threaten a security guard over a dirty look, imagine what he'd do to a stoolie like Scott.
The alleged mafioso who was arrested last week in a multi-state, international FBI raid was also arrested back in January for the rent-a-cop run-in on Miami Beach, according to the Miami Herald.
Settineri, fittingly, was dining at Soprano Cafe on Lincoln Road with a couple of other guys when he was approached by security guard Cesar Mainardi.
"I will put this gun in your f-----g mouth," Settineri, who opened his leather jacket to reveal a holstered gun, told the security officer, according to a police report obtained by the Herald. "I know where you live. I'll go to your house and kill you and your family."
Settineri was arrested a short time later and charged with aggravated assault.
Mainardi told police the confrontation was provoked by nothing but a look.
"Apparently he did not like the way I looked at him, and I noticed his reaction and wanted to talk to him, but he acted aggressive," Mainardi said.
Settineri, who admitted he owns four guns and has a concealed weapons permit, denied threatening Mainardi.
Settineri's lawyer claims Mainardi confronted his client over a woman they both knew.
Mainardi "weaved his way through a tight crowd and intentionally harassed him," attorney Michael Catalano said. Settineri "told the security guard to leave him alone, and he made up these allegations."
The assault charge is nothing compared to the money laundering and obstruction of justice charges the 41-year-old Settineri is facing after he was ratted out by Rothstein.
After his arrest in November for running the $1.2 billion scam that he has since pleaded guilty to, Rothstein went to work for the Feds in the hopes of reducing his possibly lengthy prison sentence.
Rothstein agreed to wear a wire and go undercover to set up Settineri, who he went to as he was out on bond, claiming the FBI was on his tail and he needed help.
Settineri allegedly helped Rothstein destroy boxes of evidence and launder $79,000.
Settineri was one of several suspected Cosa Nostra crime syndicate members busted in the March 10 coordinated round up which also took place in New York and Sicily.

Italian national police in Rome said that 20 warrants were issued on the Palermo-based group, and that six arrests were made in the United States.
The crime family is suspected of running extortion, money laundering and drug trafficking operations.
Rothstein was shuffled around between South Florida prisons and hospitals in the days before the FBI raids, and though he's still in custody his whereabouts are unknown.
Rothstein, 47, is facing a maximum of 100 years behind bars for his scheme in which he duped clients of his Fort Lauderdale law firm out of millions through fake legal settlements. He's set to be sentenced on May 6.