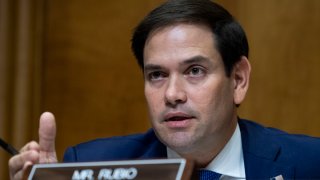 U.S. Senator Marco Rubio has asked the Bureau of Prisons to conduct a thorough review of Florida's Coleman Federal Correctional Complex following reports of sexual abuse of female inmates by male staff at the facility.
Rubio called the allegations "simply abhorrent" in a letter to U.S. Attorney General William Barr, the Miami Herald reported.
A lawsuit was filed last week on behalf of 14 women seeking compensation and prison improvements. The Herald reported that seven of the women are still incarcerated at the central Florida facility.
The complaint outlines the coercion, threats and sexual abuse the women suffered at the hands of correctional officers. One woman said she was taken to a remote trailer and assaulted by an officer who told her that he had been accused of rape before "but they're never going to believe you."'
Former inmate Gina Hernandez told the newspaper the layout of the complex makes abusing inmates easy. There are multiple buildings with plenty of wooded paths.
In his letter to Barr, Rubio urged the attorney general to "take immediate action to ensure such behavior is neither happening, nor tolerated," at Coleman or any other federal facility.
Copyright AP - Associated Press