A Miami-based LGBTQ organization has terminated its executive director after he welcomed four men charged with hate crimes in an anti-gay attack to an equality gala last month.
SAVE's board of directors said in a statement Monday that Tony Lima's employment was terminated following the Champions of Equality gala on June 14.
"We deeply regret the damage this has caused the LGBTQ+ community in South Florida, particularly during a time when the country was reflecting on the riots at Stonewall as well as the many other hardships and abuses that our community continues to endure," the board's statement read in part.
NBC 6 exclusively obtained a short video clip from SAVE where Lima is heard introducing and welcoming the men during the gala.
"Finally tonight we are joined by four young men wrongfully accused of a hate crime in Miami Beach last year," Lima says in the video.
The rest of the video cuts off, but notes also obtained by NBC 6 show the rest of Lima's comments during the event. His notes introduce each suspect by their first name and that SAVE supports them in their "fight for justice." But SAVE's board-approved run of the show does not include Lima's remarks on the men.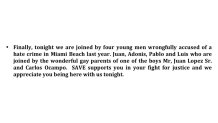 Lima apologized Friday in a Facebook video and said that the men – Luis M. Alonso, Juan C. Lopez, Adonis Diaz and Pablo Reinaldo Romo – bought their own tickets after volunteering with the group. He said he "wanted them to feel welcomed," but didn't consult with board members before including them in his remarks at the June 14 party.
The four men are accused of attacking two men, shouting anti-gay slurs following last year's gay pride parade in Miami Beach.
All four men saw their initial aggravated battery charges increased after the State Attorney's Office filed hate crime charges in the case. Each face up to 30 years in prison if convicted.
Copyright AP - Associated Press