Gov. Rick Scott has a small advantage over Sen. Bill Nelson in the race for the contested Florida U.S. Senate seat, according to a poll among Hispanic voters conducted for NBC 6 sister station Telemundo 51.
The results of the poll, released Tuesday, show that Scott, a Republican, has 42 percent of support from likely Hispanic voters, while 39 percent favored incumbent Democrat Nelson, who seeks re-election Nov. 6.
Among Cuban-Americans, Scott has a sizable lead of 58 percent to 30 percent over Nelson.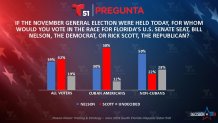 The poll of 1,000 Hispanic voters, conducted via telephone by Mason-Dixon in the counties of Broward, Miami-Dade and Monroe, has an error margin of 3.2 percent.
The sample included 35 percent of voters registered as Democrats, 32 percent registered as Republicans and 33 percent registered as Independents, which reflects Hispanic voter registration by county.
Other results from the study show that 48 percent of Hispanic voters in South Florida feel that things in the country are on the wrong track under President Donald Trump, while 38 percent feel they are on the right track.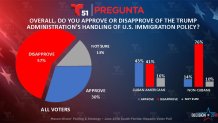 A majority of voters, 57 percent, disapprove of the Trump administration's handling of immigration policy, and only 36 percent approve its efforts to secure the border – a proposal for which includes building a border wall.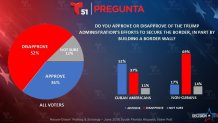 By contrast, 87 percent support extending the DACA program, which allows people whose parents came to the United States illegally when they themselves were children to remain in the country.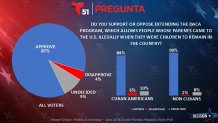 The poll, conducted from June 25 to June 29, also includes other topics of local interest like the expansion of the public transportation system, the state of relations between police and the community, and the trade embargo against Cuba.
For the complete results of the poll, please click here.