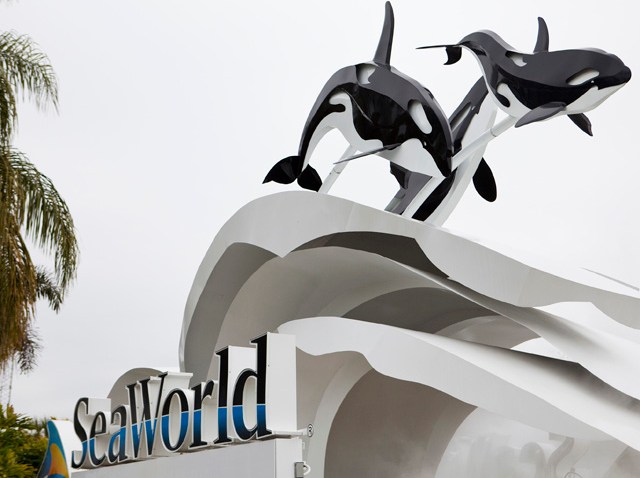 Sea World trainers are going to keep interacting with the 12,000-pound killer whale that killed a veteran handler in front of an audience yesterday at the Orlando attraction.
But the park said procedures for working with him would change after trainer Dawn Brancheau was dragged underwater and drowned by whale Tilikum shortly after a show yesterday afternoon.
"Many people are asking about the future care of Tilikum, the whale involved in the incident," SeaWorld said in a post on its blog. "We have every intention of continuing to interact with this animal, though the procedures for working with him will change."
An autopsy showed Brancheau died of drowning with multiple traumatic injuries. She had been standing near the edge of the whale's tank, affectionately rubbing him when he grabbed a hold of her hair and pulled her in.
Co-workers had to lift Tilikum out of the pool to recover Brancheau, officials with the Orange County Sheriff's Office said.
"In the case of a killer whale, if they want your attention or if they're frustrated by something or if they're confused by something, there's only a few ways of handling that," said Billy Hurley, chief animal officer at the Georgia Aquarium. "If you're right near pool's edge and they decide they want a closer interaction during this, certainly they can grab you.
"At 12,000 pounds there's not a lot of resisting you're going to do."
Though the killer whale show at both Orlando's and at San Diego's SeaWorld were both closed today, it was business as usual at the rest of the park, as the killing didn't keep spectators from coming.
Some who had witnessed the attack even returned to check out the other park attractions and recall the horrific accident.
Trainers said the whales "were having an off day, that they were being ornery," said Kelly Vickery, of Tallahassee, who brought her 1- and 5-year-old sons back after witnessing the attack. "But it's an animal, and it's an accident."
Friends and family of Brancheau, 40, said she wouldn't want anything to happen to Tilikum, who has also been involved in two other deaths.
"She loved the whales like her children, she loved all of them," said Diane Gross, Brancheau's sister. "They all had personalities, good days and bad days."
Copyright AP - Associated Press