The world's first guitar-shaped hotel is set to open at the Seminole Hard Rock Hotel and Casino in Hollywood, Florida, and NBC 6 got a peek inside before the grand opening.
Anyone who's driven in the vicinity of the massive 450-foot-tall hotel had surely seen it reaching into the sky with lights that can be seen from across South Florida.
It's taken $1.5 billion, two and a half years, and 2,000 construction workers a day to complete the new expansion project, set for its grand opening Oct. 24.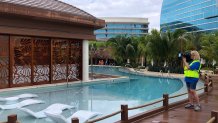 "I think the first thing that people think of is 'I'm actually walking inside of a guitar,'" said vice president of hotel operations Andrew Schlesinger. "The shape, it's something that no one has ever done."
In the guitar hotel lobby, the Oculus Bar greets guests, along with an interesting front desk concept: separate, intimate desks for check in. To get there, guests walk through the Oculus, the ceiling-to-floor water centerpiece that's still in its final stages of completion.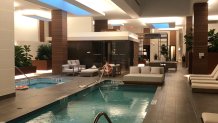 "You'll see like a bird flying in the water, you'll see maybe an image of Mick Jagger singing," Schlesinger said.
Also inside the hotel are a French-inspired bakery, the 42,000-square-foot Rock Spa and Salon, and pool complex.
"We hope that when [guests] arrive, they'll never want to leave," president Bo Guidry said. "It's the perfect weekend. You drive up, you have a beautiful hotel, you can hang out at the pool, you can gamble all night, fabulous restaurants."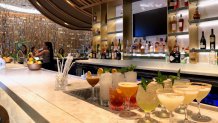 Some of the new restaurants include a 24-hour contemporary diner, an Italian restaurant, and the hotel's classic steakhouse, Council Oak, which now boasts an open kitchen and butcher shop.
Last but not least is the new Hard Rock Live venue, which kicks off with a performance by Maroon 5 on Oct. 25.