A shooting in Broward County began a cross-county chase that ended with a suspect being arrested in Palm Beach County.
The incident began when authorities responded to a shooting call around 6 p.m. Saturday near the 4000 block of Southwest 18th Street in West Park, Broward Sheriff's Office officials said in a statement.
Once they arrived at the scene, deputies found a woman that was shot. Paramedics transported the victim to an area hospital to be treated for life threatening injuries.
One neighbor who had a surveillance camera system set up inside his home told NBC 6 it captured the audio of the moment shots rang out.
Stay informed about local news and weather during the hurricane season. Get the NBC 6 South Florida app for iOS or Android and pick your alerts.
According to BSO, the suspect then led detectives in a tri-county chase,
The suspect, 41-year-old Shawn Michael Williams, led authorities south to Miami-Dade County and eventually worked his way north to Palm Beach County, officials said.
Williams, of Hollywood, was later taken into custody and was being held in Palm Beach County. It's unknown what charges he faces.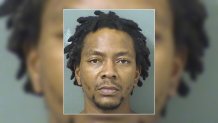 Officials didn't release information on the victim's identity or her condition but said it was a domestic incident.
Close family friends said Williams and the victim have been together for 18 years and share at least one child together.