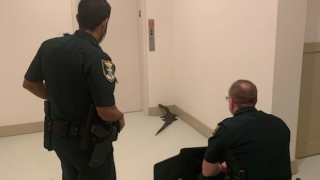 Residents in a Southwest Florida apartment complex found themselves trapped in an elevator thanks to something all too familiar in the Sunshine State - a live alligator that was sitting outside the door.
The Lee County Sheriff's Office said in a Facebook post that deputies responded to the complex near Estero after getting calls of the reptile keeping residents from being able to exit.
Deputies Hernandez and O'Leary, according to the post, were able to isolate the alligator until a trapper arrived and was humanely able to remove the gator.
No injuries were reported by residents trapped inside.