What to Know
A student pilot was killed and his instructor was hospitalized after the small plane they were in crashed in Miramar
One person who was hurt by the plane's debris was treated at the scene
Officials said it's believed the plane had mechanical issues but the cause of the crash is being investigated
A student pilot was killed and his instructor was hospitalized when the small plane they were flying crashed at an intersection in Miramar Tuesday morning, authorities said.
Dash cam footage showed the plane clipping a power line as it went down on Pembroke Road just east of Hiatus Road around 9 a.m.
Federal Aviation Administration officials said the two people were on board the Piper PA-34 when it left nearby North Perry Airport. The pilot told air traffic controllers he was attempting to return to the airport when it went down, officials said.
Officials said the plane crashed while attempting to land on Pembroke Road. Footage showed the badly-damaged plane up against a tree near a Chase bank.
Officials say one man on board was killed while the second man was rushed to Memorial Regional Hospital with serious injuries. A third person who was on the ground was hurt by some of the plane's debris but was treated at the scene and released, officials said.
The man killed was a student pilot from Wayman Aviation Academy, and the man hospitalized was his instructor. The student pilot was later identified as 25-year-old Mark Daniel Scott, of Miramar.
Wayman vice president Eddy Luy said Scott had been training with them for about a year and was about to complete his training.
"They had some trouble, followed all emergency procedures but it seems like chance was not with them this morning," Luy said.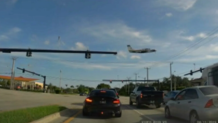 Police officers from Miramar and Pembroke Pines responded to the scene. Officials said there was a downed power line at the scene, with some power outages in the area.
"This is a busy shopping center and so at the time that this occurred there was some traffic on the road so it's fortunate that no vehicles were struck," Miramar Police spokesperson Tania Rues said.
Investigators from both the FAA and the NTSB were also responding to the scene.