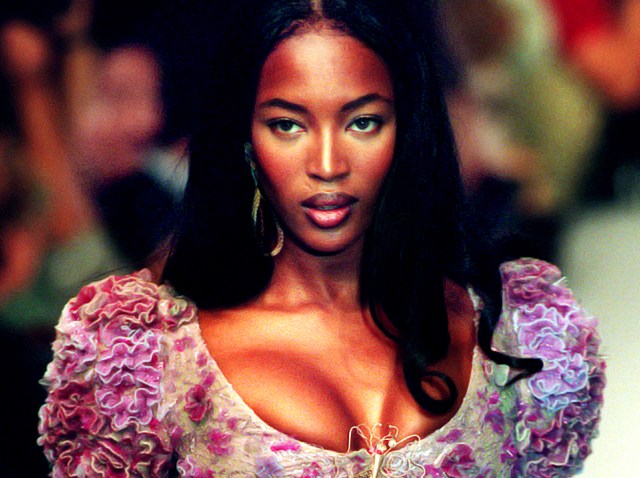 Usually, everything Naomi Campbell touches turns up roses or with a black eye.
But a Miami Beach perfume outfit claims the supermodel has stiffed them for nearly a year on payments she owes from the profits of her three fragrances.
Moodform Mission, which has offices in London and South Beach, filed a lawsuit late Monday claiming that Campbell signed a new fragrance-licensing agreement last year with a rival company despite being under contract since 1998.
The firm worked for years — even designing the perfume bottles — to line up a 1998 fragrance deal for Campbell with a German company that later became part of Procter & Gamble Co., said Moodform Mission lawyer Daniel R. Bright.
Campbell responded to the allegations in a statement released by one of her assistance she has not punched or thrown a phone at.
"She is confident that the judge and the jury in this case will fully vindicate her," the statement said.
It's probably going to take more than a few spritzes of Cat Deluxe and Seductive Elixir to make this situation disappear.
Campbell, 39, is no stranger to legal disputes, but most of them involve her attacking some unsuspecting maid or personal assistance.
She pleaded guilty in a case at London's Heathrow Airport case in June 2008 after prosecutors said she cursed, kicked and spat at police in a rage over a missing piece of luggage; she was sentenced to 200 hours of community service.
She also did a week of community service sweeping floors and scrubbing toilets in a Manhattan garbage-truck garage in 2007 after pleading guilty to misdemeanor assault for hurling a cell phone at her maid because of a vanished pair of jeans. In 2000, Campbell pleaded guilty in Toronto to an assault charge for beating an assistant who said the model whacked her on the head with a phone.
A few of Campbell's former aides and maids have sued her, accusing her of violent outbursts; some cases have been settled on undisclosed terms.
Campbell - and by this we mean her super-rich boyfriend - recently purchased Shaq's Star Island mansion, presumably to live a secluded life away from the hustle and bustle of courtrooms.
The breach-of-contract lawsuit, filed in state Supreme Court in Manhattan, seeks unspecified damages. According to the lawsuit, the contract stipulated that New York would be the venue for any disputes.
Copyright AP - Associated Press