Miami Marlins star pitcher Jose Fernandez would have turned 25 years old Monday, but the special day was a somber one for the slugger's mother who lost her only child in a boating crash last September.
Maritza Fernandez and other family members visited the Miami Beach jetty where the Cuban-born player took his last breath, to pay tribute to a young life cut short.
Fernandez's mother spray painted the words "Happy Birthday" and "JDF16" on the rocks. The photos were posted to Facebook along with the caption in Spanish "My beautiful boy, wherever you are today, we are all going to remember and miss you so much." She also placed white flowers and candles on the rocks and launched "Happy Birthday" balloons into the air.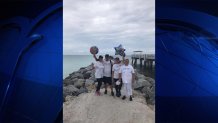 There were tears and smiles and hugs and mixed emotions Monday as Fernandez's family visited Marlins Park for a game for the first time since the fatal crash.
The family visitors included Penelope's mother, both of her grandmothers and Jose's grandmother.
The family went onto the field before batting practice and stayed for the start of Miami's game against Washington.
"It was pretty special for the whole team," infielder Miguel Rojas said. "There were a lot of emotions. It's a tough moment. It's hard to be strong in these moments."
Rojas said he saw Penelope's resemblance to her father.
"Her face and her hair — I remember a lot of mornings Jose would come in with messy hair," Rojas said.
Manager Don Mattingly said the visit tugged on the heartstrings.
"It was a nice surprise," Mattingly said. "It was great to see the little girl and Jose's mom and everyone. And it's also a reminder of last year."
Before the trip to the ballpark, Fernandez's family observed his birthday by visiting the jetty where his boat crashed, killing him and two others.
"My beautiful boy, wherever you are today we are all going to remember and miss you so much," his mother, Maritza, wrote in Spanish on her Facebook page. "Nothing harder than living without you my love."
The family also presented from its foundation a $25,000 check to the Kiwanis Club.
In May, Maritza Fernandez spoke exclusively to NBC 6 about her son's death. She said every day she grieves and tries to understand that fateful day.
"Every night at 10:50, I expect him to walk through the door. In the morning, I take him his coffee like I always did; light candles and talk to him," Maritza said. There are so many questions she wants answered. "Papi, I want you to explain to me what happened."
Fernandez was operating his boat when it slammed into the rocky jetty, killing himself and two other men, Emilio Macias and Eduardo Rivero. Alcohol and drugs were determined as factors in the crash, according to a toxicology report.
Copyright AP - Associated Press