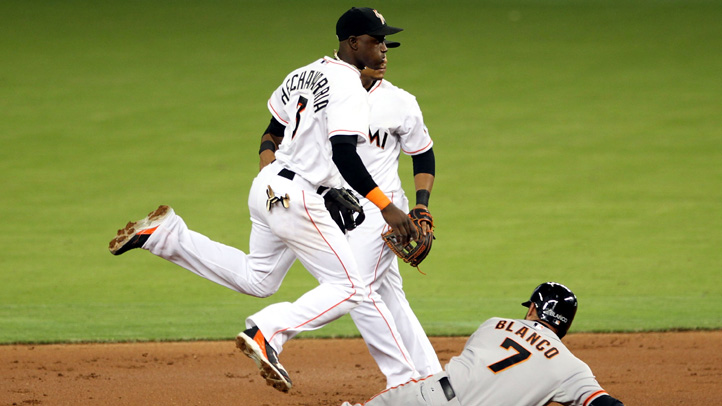 Giancarlo Stanton said he was hit by a pitch on the wrist.
He could not prove it to home plate umpire David Rackley so he picked himself off the ground after Matt Cain's pitch brushed him back and hit the next one over the left-center field wall for a two-run home run that went an estimated at 446 feet.
"I'll take it instead of a hit-by-pitch," Stanton said.
Stanton's home run, his 14th, and Logan Morrison's two-run double provided the runs for the Miami Marlins, who lost 6-4 to the San Francisco Giants on Saturday night.
"We kind of gave that one away," Marlins manager Mike Redmond said. "I haven't said that too often this year. We didn't execute the fundamentals and that cost us."
Three key defensive miscues by the Marlins aided in the Giants' four-run fourth inning. The first one was a ground ball hit by Pablo Sandoval to first baseman Logan Morrison, who decided to race Sandoval to the bag, but Sandoval's head-first slide beat Morrison resulting in a run scored by Brandon Belt as opposed to the final out of the inning.
"Great hustle, it probably won the game for us," Giants manager Bruce Bochy said. "It kept the rally going."
Following Sandoval's hustle play, Miami pitcher Henderson Alvarez (2-2) then balked home a run and Gregor Blanco tripled, scoring Sandoval and Roger Kieschnick for a 4-0 lead. Center fielder Jake Marisnick made a dive for the ball, but could not get a glove on it.
"Jake got aggressive trying to catch that fly ball in center and didn't catch it and it cost us a couple runs," Redmond said.
Sandoval credited his recent weight loss for his ability to beat out the infield hit, which proved to be a turning point in the game.
"It worked, hustle," Sandoval said. "That's a good rally for us. You have to play like that no matter what situation. That's the guy that I am, I play hard every day no matter what the situation is."
Sandoval has lost 22 pounds in the past six weeks after hiring his older brother, Luis, to be his full-time chef. And when asked if he could have beaten out the play at first prior to his recent transformation, Sandoval responded with an emphatic, "No."
The Marlins cut the deficit to 4-2 on the two-run home run by Stanton in the sixth off of Cain (8-8), who picked up the win allowing two runs and four hits in seven innings.
Cain wasn't happy giving up the homer and struck out the next three batters.
"I was definitely heated," Cain said.
Sandoval drew a bases-loaded walk in the eighth and Andres Torres hit an RBI single to push the Giants' lead to 6-2.
"It's always important to get insurance runs," Bochy said. "It gives you a bigger margin of error."
Morrison hit a two-run double in the bottom of the eighth to pull the Marlins to 6-4.
Sergio Romo retired the Marlins in order in the ninth to record his 30th save in 34 chances.
"He made some great pitches hitting his spots tonight," Bochy said. "He's done a very well in that closing role."
Alvarez allowed four runs, four hits and four walks while striking out four in seven innings.
NOTES: Belt went 0 for 2, snapping his career-best hitting streak at 11 games. ... Marlins 3B Placido Polanco was given the day off after getting hit in the head by a pitch during Friday's game. "It looks like he's going to be OK," Redmond said. "Today is a day he just kind of takes it easy. Maybe he'll feel better (Sunday). He definitely dodged one there and I'm glad he's OK." ... San Francisco LHP Madison Bumgarner (11-7, 2.73 ERA) will pitch Sunday's series finale against Miami RHP Tom Koehler (3-8, 4.62 ERA).
Copyright AP - Associated Press