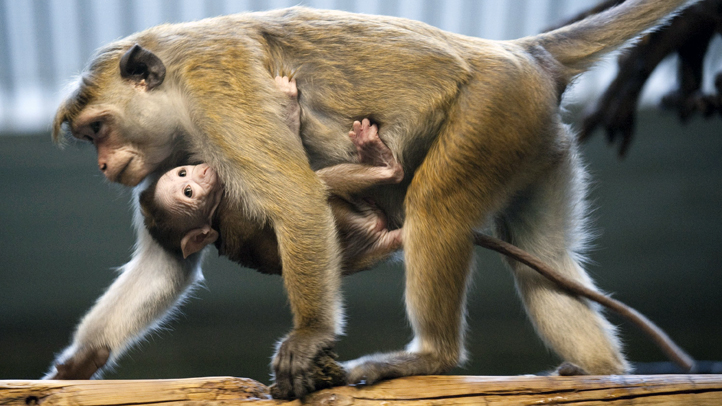 State officials will no longer allow a trapper to snare wild monkeys from a central Florida state park and sell them to research laboratories.
A Department of Environmental Protection spokesman told the Tampa Bay Times the agency is looking for other ways to deal with the invasive species.
Trapper Scott Cheslak has captured about 700 of the rhesus macaques monkeys with state permission over the past decade.
The monkeys are a popular sight for tourists at the Silver River State Park. They have been in the area since the 1930s, though no one is certain exactly how they arrived.
Some say they got loose during the filming of a Tarzan movie. A more plausible theory is that they were placed on a small island in the Silver River as an attempt to spice up the Silver Springs' Jungle Cruise ride for tourists. The operator of the cruise, however, didn't realize the monkeys could swim.
The rhesus macaques have thrived in the central Florida woods. Their colony grew to about 100, but with suburban development conflicts developed. In the 1980s, there were reports that the monkeys had attacked a 3-year-old boy and threatened a game warden, but those faded over time.
Cheslak originally worked for a company that supplied monkeys to research laboratories, but the company's CEO later decided to discontinue the practice, believing it was wrong to cage monkeys that had been in the wild for so long. Cheslak, however, continued the work as an independent contractor.
According to the U.S. Department of Agriculture, he was "selling some of the monkeys to a research facility."
Many of the monkeys Cheslak caught were juveniles or yearlings. His license expired last year, and he hasn't trapped any since. He did not respond to a request for comment.
State officials worry the monkeys could pose a health threat to humans because most of the ones Cheslak has captured tested positive for herpes-B, which can be fatal. However, there have not been any cases of people infected by the Silver Springs rhesus macaques. The only cases have taken place in laboratories.
The manager of the Silver River State Park told the Times last year state officials have been torn about the species, considered both a tourist attraction and a health hazard.
"We know people like to see the monkeys, but we know they don't belong here," manager Sally Leib said.
The Animal Rights Foundation of Florida had petitioned the state to stop the trapping.
"We are very happy that (the park) will once again be known for its natural beauty and outdoor activities, not as a supplier of animals for cruel laboratory experimentation," the group's spokesman, Don Anthony, said a news release Friday.
Copyright AP - Associated Press