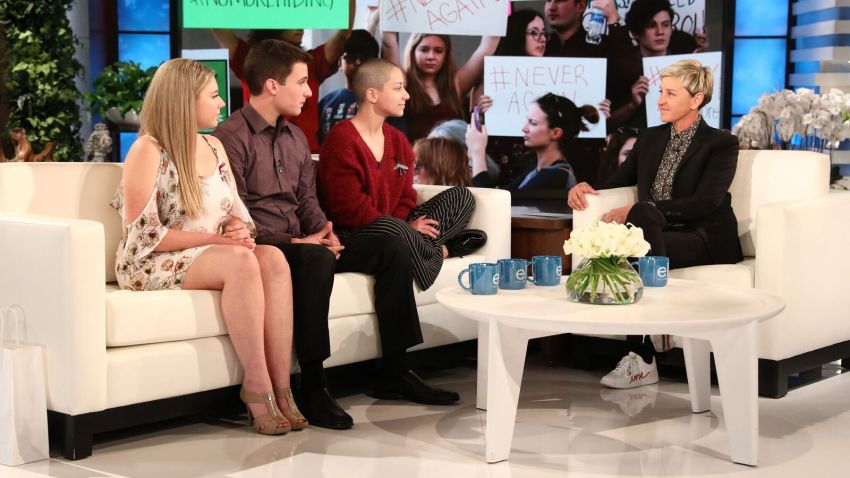 Three outspoken survivors of the Marjory Stoneman Douglas High School shooting appeared on the Ellen DeGeneres show Friday, to discuss the "March for Our Lives" gun protest in Washington D.C. as well as their efforts to get their voices heard.
Eighteen-year-old Emma Gonzalez, 17-year-old Cameron Kasky and 17-year-old Jaclyn Corin all spoke to Ellen about their experience during the Parkland shooting, a tragic incident that took the lives of 14 students and three educators. Since the shooting, all three students have been vocal about reforming gun control laws in the United States.
Gonzalez talked to Ellen about her "We Call BS" speech – which went viral during a gun control rally in the aftermath of the shooting – while Kasky discussed his exchange with Sen. Marco Rubio during Wednesday's CNN town hall meeting.
"We appreciate that Sen. Rubio showed up, because not everybody did," said Kasky. "And we appreciate that Sen. Rubio has started the baby steps to fixing this, because those are steps, and that's progress, and that's proof that we're doing something here."
The students emphasized the point that their goal is not to completely ban guns, but to regulate semi-automatic weapons and gun accessories.
They also discussed their role in speaking out.
"There's kids in previous shootings like Sandy Hook, and they're so young, and many of them did not make it out to tell their tale," Gonzalez said. "We are thankful enough to have been in a school that educated us almost perfectly to handle this situation."
DeGeneres will donate $50,000 to the students' movement, according to a statement.