One person died and multiple people were hurt after scaffolding fell from a high-rise building under construction in Miami's Brickell neighborhood Wednesday afternoon, officials said.
The incident happened at a luxury high-rise near Southeast 14th Lane and Brickell Avenue. At least four people were injured, Miami police said.
Miami Fire Rescue officials said there was a structural collapse at the Echo Brickell building, a 60-floor condominium.
Footage showed debris strewn across the road near the building and a heavily damaged car. Splintered wood and other construction material was still hanging from the top floor.
People who worked nearby were stunned and some even ran to the scene to help.
A witness described the rush to rescue a woman was in the driver's seat of a car hit by flying debris. "Some people started running up to help the lady who was in the driver's seat. They had to pull her out from the passenger side," Sheila Everett said.
"I was in my office and saw a lot of things coming from the building. I just came to see if everything was ok and if I could help," said Ivan Clare.
A construction worker also said he saw a man with a bloodied hand that appeared to be severed.
A 50-year-old man died as a result of the incident. The man had a heart attack as he ran from the construction accident and later died, officials said.
Five others were injured, including two construction workers. Two victims were treated and released.
A family member at the hospital identified one of the injured as 34-year-old Quincy Williams. The relative said Williams is a construction worker at the job site and was wearing a helmet but suffered a gash to his head from falling debris.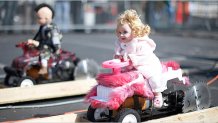 Michael Jacobs was on a conference call when he looked out of the window and saw the chaos. "I see all this debris coming flying down and everybody inside the pool area at the Four Seasons Hotel were scattered around," Jacobs said.
Miami police said it appeared scaffolding fell from a construction site. Property Markets Group, the developer of Echo Brickell, released a statement on the incident.
"When a construction accident occurs, all you can hope for is the safety of everyone involved. Kevin, Michael Stern, myself, and everyone at PMG and JDS send our deepest sympathies and condolences to the family of the gentleman who passed. At this time we understand that everyone else injured has been released from the hospital. PMG, our general contractor (JMA) and city officials are working diligently to understand what happened with the form work connection, which has not been determined at this time. The site has been secured and is currently being reinspected to ensure proper safety measures are in place."
Traffic was closed off from 14th to 15th streets on Brickell Avenue as a result of the incident.