A man who authorities described as a "homeless drifter" has been arrested in Miami-Dade County in the killing of a 14-year-old in Palm Beach Gardens last month, authorities said.
Semmie Lee Williams Jr., 39, was arrested Wednesday in Miami-Dade County on a first-degree murder charge in the killing of Ryan Rogers.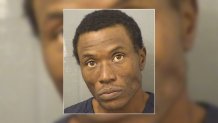 Williams was booked into the Palm Beach County jail late Wednesday where he was being held without bond. Attorney information wasn't available.
At a Thursday morning press conference, Palm Beach Gardens Police Chief Clint Shannon said they had no motive in the killing.
"The incident itself appears to be a completely random act, we do not have a motive in this case and I would best describe it as an innocent child victim having a chance encounter with a very violent criminal," Shannon said.
Police found the body of Rogers near the Central Boulevard sidewalk at the Interstate 95 overpass back on November 16. Shannon said Rogers had been stabbed to death.
The boy's mother wrote on Facebook that her son had gone out for a bicycle ride on November 15 and did not return home.
Shannon said dozens of officers and detectives worked around the clock for two weeks to solve the case. He said the Palm Beach Sheriff's Office, U.S. Marshals and Miami-Dade Police's cold case homicide squad assisted in the investigation.
The reward in the case surpassed $50,000 at one point, Shannon said.
Williams has a lengthy criminal history that includes arrests for battery, aggravated assault and domestic violence, Shannon said. The chief said Williams had no ties to Palm Beach Gardens.
"He appears to be a homeless drifter spending most of his time in the streets of Miami," Shannon said. "It's a mystery to us why this man was in our community."
Rogers was a William T. Dwyer Community High School freshman and avid soccer player. Shannon said he met with the family Thursday morning following the arrest.
"They are experiencing an unthinkable tragedy and have experienced an unimaginable loss," he said.