Deputies fatally shot a suspect during a planned drug operation Thursday near Fort Lauderdale, officials said.
The shooting happened before noon near the intersection of Broward Boulevard and NW 27th Avenue, near the Broward Sheriff's Office headquarters.
Officials identified the suspect as 23-year-old Zy'Shonne Johnson, of Delray Beach. BSO had a warrant out for his arrest on narcotics charges.
Sheriff Gregory Tony said he heard the gunfire inside his office when it erupted in a heavily trafficked area that includes fast-food restaurants and a strip mall.
Undercover deputies, including SWAT and ATF agents, had tried to arrest Johnson after making a drug buy, Tony said. Johnson sped away in his car and into the sheriff's office parking lot, striking several cars.
Johnson then tried to run, and when he was told to surrender, he turned toward deputies with a handgun, Tony said. At that time, two SWAT members fired their weapons, shooting and killing him.
"He decided to take off on foot, running through this community armed with a firearm," Tony said. "When our officers were able to pinpoint him, and gave him an opportunity to surrender, he felt instead, he drew a firearm, at which time our deputies fired on the individual."
The SWAT team deputies were placed on administrative leave pending the investigation, which the Florida Department of Law Enforcement is leading.
Surveillance footage showed the moments deputies confronted the suspect.
"All of a sudden, you hear, 'boom, boom, boom, boom' and he fell to the street. It was horrible," said Keden Fuller, who said he witnessed the shooting.
"Obviously he was running. He was not trying to start a war or whatever the case was," Fuller said. "At least 6 or 7 shots were fired."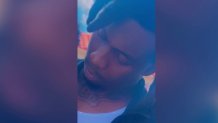 The suspect was taken to a nearby hospital, where he was later pronounced dead.
Johnson's family, overwhelmed with emotion, demanded answers outside the Broward Sheriff's Office.
"I need to know what's going on with my son," his mother said. "If it was your child, wouldn't you want to know?"
Footage from Chopper 6 showed a large presence of law enforcement in the middle of the roadway. Drivers were asked to avoid the area due to the investigation.
Get South Florida local news, weather forecasts and entertainment stories to your inbox. Sign up for NBC South Florida newsletters.
NBC 6 and the Associated Press