A man killed his father and left his mother clinging to life after an argument turned into a double stabbing at a home in southwest Miami-Dade Sunday, officials said.
Marlon Herrera, 24, was arrested on second-degree murder and attempted second-degree murder charges in the incident, Miami-Dade Police officials said.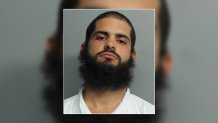 The stabbing happened at a home in the area of Southwest 72nd Avenue and 16th Street.
According to an arrest report, officers responded to the home after getting reports of a person with a knife and screaming.
When they arrived, officers spotted Herrera's father inside the house surrounded by blood, the report said.
Officers forced their way into the home and found Herrera straddling his mother, who was on the kitchen floor and had multiple stab wounds and a knife stuck in her back, the report said.
Herrera's father was taken to a nearby hospital where he was pronounced dead. His mother was taken to Jackson Memorial Hospital's Ryder Trauma Center where she was undergoing surgery and in critical condition.
According to the report, Herrera's father had called 911 and put his phone in his pocket, and the altercation and a woman screaming could be heard over the open line.
Herrera was taken into custody and booked into jail, where he was being held without bond Monday. Attorney information wasn't available.
Check back with NBC 6 for updates.