A suspected bank robber is in custody after a police chase when his car rolled over in the Boca Raton area, according to the Broward Sheriff's Office.
The bank robbery incident occurred around 1 p.m. Saturday at the TD Bank branch located at 1371 W. Palmetto Park Road in Boca Raton.
The alleged suspect, Robert Bruce Willis, 46, will be facing federal bank robbery charges and will make his first court appearance Monday in Federal court in Fort Lauderdale.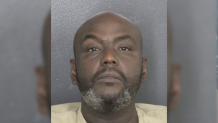 After the bank robbery, the FBI says Willis fled in a black Mitsubishi and ended up crashing into another vehicle on Commercial Blvd close to the Florida Turnpike.
Footage from the scene also shows other vehicles were hit during the incident.
Susan Beck, who lives near Commercial Boulevard and Florida's Turnpike in Tamarac says she panicked when she tried to go back home but saw the crime scene.
"Everything was all roped off. They had helicopters circling all around," Beck said. "It actually flipped three times and ended up on its side."
Beck, a former banker, says the incident hit home.
"I was a banker for 30 years and my first two weeks on the job I got robbed," Beck said. "I hope and pray that all the tellers were okay. I know myself, I was kind of scared.
Willis was taken into custody and transported to a local hospital with non-life-threatening injuries from the crash.
Investigators are also looking into whether Willis may have been involved in other recent bank robberies.
Florida Highway Patrol assisted the Broward Sheriff's Office, Boca Raton Police Department and the FBI in apprehending the suspect.
The southbound and northbound entrance ramps from Commercial to State Road 91 were blocked until the subject was arrested by BSO around 4 p.m.
No information was immediately available as to how much was stolen from the bank.
This is a developing story. Please check NBC 6 for updates.