Authorities are looking for two suspects after a home invasion robbery was caught on camera in a residence on East Chatham Road in Palm Beach.
This incident occurred Friday, Feb. 18 at around 11:30 a.m.
According to the Palm Beach County Sheriff's Office, the two unknown males entered the residence and removed a safe containing a large sum of money and then fled in a GMC SUV.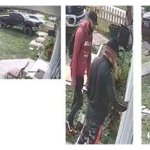 Stay informed about local news and weather. Get the NBC 6 South Florida app for iOS or Android and pick your alerts.
Anyone with information that can identify these suspects or has any information on this home invasion is urged to contact Crime Stoppers at 1-800-458-TIPS.