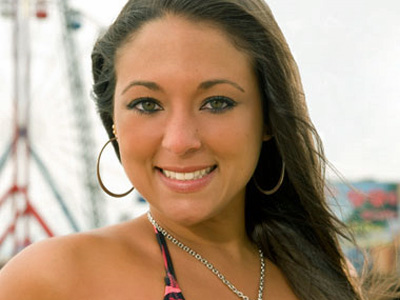 Sammi The Sweetheart's lawyer claims the "Jersey Shore" star's alleged smackdown of a fellow clubgoer in a South Beach bar is a "non-incident."
James Leonard Jr., attorney for Sammi Giancola, said he spoke with the MTV star Tuesday and expects his client to be cleared in the incident once all the facts are known.
Giancola, 22, is accused of punching a woman in the head twice during a May 8 fight at Club Dream on South Beach, according to attorneys for the victim.
Sporting a black eye, 24-year-old Kristen DeMinco held a press conference Tuesday in Miami to discuss her clash with the "Jersey Shore" cast member.
DeMinco was partying in the VIP at Dream with a few of her friends to celebrate a birthday when the Jersey crew and cameras were allowed through the velvet rope. Eventually the two parties started mingling and everything was cool, until DeMinco started talking to an unidentified man.
That's when Giancola appeared out of no where to confront DeMinco.
"She just said 'That's my boyfriend,'" DeMinco said while standing in front of the Miami Beach Police Department.
Then, Giancola allegedly punched DeMinco in the left side of her face twice and then in the head before being pulled away. DeMinco said her head was swollen for several days and her left eye was swollen shut.
"I think she was jealous or whatever. I just wanted to get away from her," she said. "I think MTV encourages this."
Miami Beach Police said they did receive a 911 call from DeMinco in which she told the dispatcher that she had some bruises from the assault. She was told to come in to the station a file an official report, but she never showed up.
DeMinco's attorneys said they plan on filing a civil lawsuit.
Leonard said he wouldn't go into detail about what happened at the club, only that he expects Giancola to be cleared.
Copyright AP - Associated Press