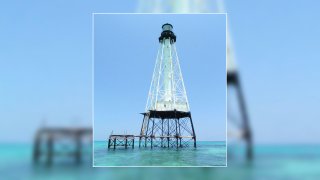 A 29-year-old swimmer from the Tampa Bay area posted the fastest time among more than 460 participants at an 8-mile open water swimming competition in the Florida Keys.
Connor Signorin finished Saturday's Swim for Alligator Lighthouse in three hours, five minutes and 37 seconds. Brooke Bennett, a three-time Olympic gold medalist, from Clearwater, Florida, was the top woman, finishing the race in 3:19:20.
Tampa residents Andrew Lashlee and Robert Skaggs posted the fastest two-person relay division time with 4:03:58. Swimmers Michelle Dalton, Sara McLarty and Misty Bacerra, all of Clermont, Florida, won the three-person class in 4:15:32.
The winning four-person team was a mixed relay of male and female competitors. Fort Lauderdale residents Tim Shead, Harold Wagner, Serge Wenzel and Ann Kilpatrick posted a time of 3:34:42.
The open-ocean event raises college scholarship funds for Keys students interested in competitive swimming.
The annual event is also hosted by a nonprofit to raise money to restore the nearly 148-year-old Alligator Reef Lighthouse and five other aging lighthouses off the Keys, no longer used for maritime navigation.
Earlier this week, the Islamorada-based nonprofit Friends of the Pool Inc. announced that U.S. Secretary of the Interior Deb Haaland had approved a recommendation from the National Park Service to transfer ownership of the lighthouse to Friends of the Pool under the National Historic Lighthouse Preservation Act.