Sex.
A former student says that's the topic her English teacher asked her to write about.
The former student, who we are naming Andrea, says she took Jason Meyers' class at Palmetto Senior High School when she was 16.
"He would tell me about like ex-girlfriends that he had and like their physical relationships and then parallel that to with what he may do with me," she said. "I was paralyzed but at that age, again, what do you do?"
Andrea says she started to meet her teacher secretly inside his classroom and it turned physical.
"He grabbed my face and kissed me," she said. "I stood up and ran out of the room to my mom's car."
She says it happened twice but that an inappropriate relationship went on for a year.
At one point, Andrea says her former teacher asked her to take nude photos and show them to him.
But she did not report Meyers to school officials.
"I didn't know just how wrong it was," she said. "I always thought that I've been the only one."
Police says she wasn't the only one.
After Meyers was arrested in 2016 for having sex with another student, seven girls in total came forward. The allegations range from inappropriate assignments like writing about intimacy to sexual relationships. Most of the girls were from Palmetto and one from Dr. Michael Krop High School, where he previously taught.
Meyers faces criminal sexual battery charges in the case of one former student who said they had intercourse. He has pleaded not guilty.
In a deposition, a former student from Krop High School said they had oral sex multiple times at an apartment in Sunny Isles. She was 17 at the time.
Another student handed police emails she said the two exchanged.
The emails come from an account that lists Meyers' first and last name.
In one of them, she's asked to describe what they would do in the bedroom if they were alone.
The emails have been presented to the court as a part of the prosecution's efforts in the case against him.
"My daughter was left unprotected," said Andrea's father. "The damage that was done to my daughter was so far beyond physical damage, so far beyond."
Meyers is not facing criminal charges for his relationship with Andrea.
But she, as a Jane Doe, is suing the School Board of Miami-Dade County.
Meyers spoke about the allegations during an internal school district hearing following his arrest and termination.
"I was terminated without anyone hearing, to this day, my side of the story," he said.
The former teacher said that a group of female students from Palmetto High School conspired against him because he rescinded a college recommendation letter he'd written for one of them.
Meyers declined to speak with NBC 6 but his attorney, Marcos Beaton, told us he is "devastated" and ready to prove his innocence in court.
"We believe we are going to get a fair shake," Beaton said.
He denied all the allegations made against his client.
"I can think of few things worse than hurting a child, except for being falsely accused of hurting a child," he said.
The NBC 6 Investigators found a warning about Meyers made years before his arrest: a 2008 email sent to a principal's assistant at Krop that accused Meyers of "having sex with students."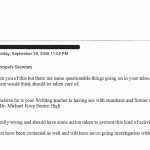 "There was nothing found whatsoever to substantiate these allegations," said Beaton. "There was an email and not much more."
Two years after the email was sent, a police report was written suggesting that the email came from a disgruntled student.
But neither the email nor the police report were put in Meyers' personnel file.
Meyers requested a transfer to Palmetto High School in 2011.
In a deposition, the principal who hired him said she wasn't aware of any allegations.
"There was nothing in his file that could have alerted her," said Mark Schweikert, an attorney who is representing Andrea. "All of his personnel evaluations over the subsequent years reflect that he was an exemplary teacher. Really?"
Schweikert believes the email complaint about Meyers not being in the file is a symptom of a larger problem.
"The system is broken," said Schweikert.
A spokesperson with the Miami-Dade County Public Schools told us that the email and the police report were not part of Meyers' personnel file because the school police closed the investigation "due to a lack of credible evidence" and said a "victim was never identified."
"We take these allegations very seriously. It's not something that we look the other way," said Dr. Jimmie Brown who oversees the district's disciplinary process against teachers.
While he describes the process as "extremely solid," he says "one (teacher) is too many."
"We expect our employees to conduct themselves professionally and respect our children and respect each other," he added.
An investigation into a teachers' misconduct can take months, even years.
In the meantime, Brown told us the district can remove an employee from the classroom and keep them away from students, if they find the allegations to be "extremely serious."
NBC 6 Investigators found Meyers is one of more than 40 teachers in Miami-Dade and Broward counties who have been disciplined or arrested due to incidents related to sexual misconduct in the past two years.
The list includes a social science teacher who lost his license for inappropriately touching and kissing a 12-year-old student. And there was a music teacher who asked a 10-year-old student to raise her shirt and expose herself. We found many others disciplined for watching pornographic and erotic material on their school computers, even in front of their students.
The troubling stories are listed in hundreds of court and Department of Education records reviewed by the NBC 6 Investigators.
Meyers is not the only teacher facing criminal charges from reported incidents in the classroom.
Wendell Nibbs, a former physical education teacher from Brownsville Middle School, was charged in 2017 with two counts of sexual battery of a student. He has pleaded not guilty.
According to an arrest warrant, at least seven former students have made allegations against him, some dating back more than a decade.
NBC 6 spoke exclusively with one of those former students -- who met him when she was 13. We will refer to her as Wendy.
"He told me I had the body of a grown woman," she said.
Wendy says her former teacher touched her inappropriately while they were on school grounds.
"It got to a point every time I see him, he was touching me below my waist," she said.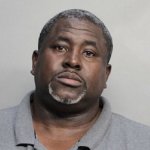 Nibbs denied the allegations during an interrogation with the Miami-Dade School Police.
"I never had any sexual encounter with any student," he told detectives.
His attorney did not respond to numerous calls and emails.
Wendy says she reported Nibbs to the school's principal in 2013. But he continued teaching in Brownsville until his arrest four years later.
"He shouldn't have been there. He shouldn't have had contact with kids," Wendy said.
The district would not comment on Nibbs' case and we have not yet received his personnel file requested from the district.
Dr. Brown says the district's priority is to keep students safe.
"I would like us as a district to get to a point where we have zero every year," he said referring to cases of teachers accused of sexual misconduct.
In a statement, a spokesperson from the Broward County schools echoed the sentiment saying allegations involving sexual misconduct are taken "seriously" and that they are "committed to providing safe and productive learning and working environments for students and staff."
But for both former students, the damage is done.
"They obviously don't care," Wendy said. "It's not a big deal as long as they can sweep it under the rug."
"I don't feel like a young free-spirited kid anymore," Andrea said.
Her lawsuit against the School Board of Miami-Dade County is pending and will likely not be heard until after Meyers criminal case is resolved. He is scheduled to face trial in December 2018. Wendy is also planning a lawsuit against the school district.
Nibbs' criminal trial is currently scheduled for January 2019.