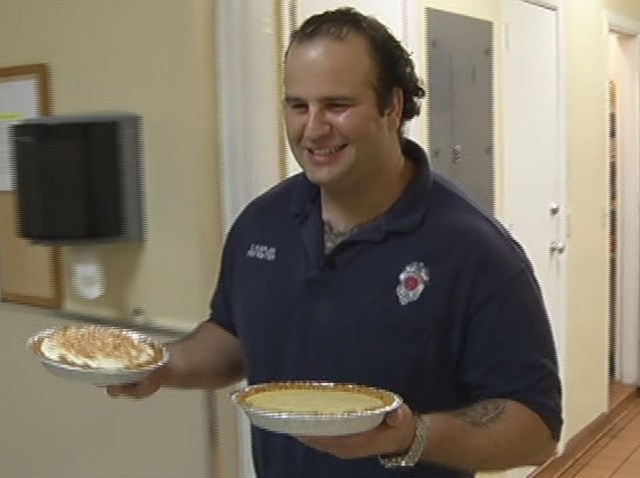 He might not look like Betty Crocker, but 6-foot-2, tattooed fireman Derek Kaplan has developed quite a reputation for baking delicious pies.
Kaplan, a 27-year-old former College Football offensive lineman, is fighting fires while running a gourmet pie business.
"People always ask, 'Are you the one who bakes 'em?'" Kaplan says. "I just enjoy doing it. It's relaxing."
When he's not on duty, you'll find Kaplan inside his small commercial kitchen in downtown Miami, just a few blocks from his fire-station. He spends 30 hours a week cranking out "Fireman Derek's World Famous Pies," which are now carried at local restaurants and bakeries.
"When you take it around to places known for food and desserts," explains Kaplan, "and they give you compliments and buy it, that says a lot."
Kaplan doesn't have one specialty pie, he says people like all of them. There's key lime, coconut cream, apple, pecan, chocolate pecan, pumpkin and blueberry pie.
And if you don't want a whole pie (for $15) they also come in 4 oz. cups (for $3).
"I started doing the smaller cups because I have diabetes," said Kaplan. "It helps with portion control. It's something you can eat and not feel guilty about eating such a large portion of dessert.
That is, assuming you can eat just one.