The Miami heat led wire-to-wire this season. I'm not talking about the NBA Heat, with a capital "H", but the winter season heat that has led Miami to shatter its record for the warmest cold season in its history by more than a half a degree! Miami's average temperature this meteorological winter (December 1st to February 28th) was 74.2°. Miami was founded in 1896 and its temperature record dates back to its founding. Just up the coast, Fort Lauderdale also had its warmest winter, averaging 73.3°.
Some quick bookkeeping first: for meteorologists, winter consists of the months of December, January and February. While astronomical winter is still ongoing (until the spring equinox on Monday, March 20th), meteorological winter ended yesterday, February 28th.
An analysis by Climate Central showed that 80 percent of the 2016-17 winter days in Miami were warmer than normal. Here are some of the numerous hard-to-believe records broken this winter in the Magic City:
Number of days reaching 80 degrees or warmer
Out of ninety days from December 1st to February 28th, Miami saw a record setting 69 of them reach 80 degrees or warmer! The previous record was 65 days during the winter of 1988-89. Said another way, greater than 75 percent of the days warmed to eighty-plus degrees this winter in Miami. Keep in mind that the normal maximum daily temperature sits below 80° for the entire 3-month period.
Zero nights of 50 degrees or cooler
This has never happened since the City of Miami was founded in 1896. The winter of 1931-32 is the only one with a single night of 50° or cooler temperatures, and twice we've had winters with only two nights to reaching 50° or colder. 2016-17 will now hold the new record of zero readings of fifty degrees or lower.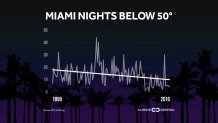 Overall, there's been a trend for fewer cold nights in South Florida. The preceding chart shows a decreasing trend for Miami since its founding 120 years ago.
It's not just Miami. Fort Lauderdale has seen 13 of its 15 years with the lowest number of nights below 50° since 1990. For Hialeah, all years with the lowest count of nights cooler than 50° have occurred since 1990.
While the growing urban sprawl plays a role in causing warmer winter nights, this winter we have had other factors at play. On top of the global trend for warmer weather caused by human-induced climate change, very warm sea surface temperatures, some days running up to 12 degrees above normal in Biscayne Bay, kept many nights from dropping below 70 degrees this winter.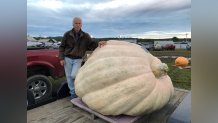 The absence of cold weather is even more impressive when we take into account a study published a little over 10 years ago that found that the chances for cold winter nights was enhanced across central and southern Florida because wetlands in the Kissimmee River basin and south of Lake Okeechobee were filled for agricultural use. That eliminated the moderating influence of the water, which would've kept the nights from becoming so chilly.
Number of days exceeding 85 degrees
While having zero nights reach 50 degrees is impressive, totally destroying the old record high number of hot days warmer than 85° is simply astounding!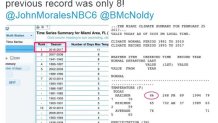 We exceeded the previous record number of hotter-than-85° days by fifty percent, with the winter of 2016-17 having had a dozen such instances versus the previous record of eight set first in 1941-42 and tied in 2007-08. Ten other days this winter the temperature reached 85° on the dot, for a grand total of 22 days of readings of 85° or warmer, which is also a record.
In addition, 11 daily record high temperatures were set, 8 daily record warm low temperatures were set, and 2 monthly record warm low temperatures were broken.
Even for "thin blooded" South Floridians, where was little chance this winter to complain about the "chill in the air" when readings reached the 60s, or to bundle up, eat churros and drink hot chocolate when we dipped into the 40s and 50s. For Miami, it was the Year Without a Winter.