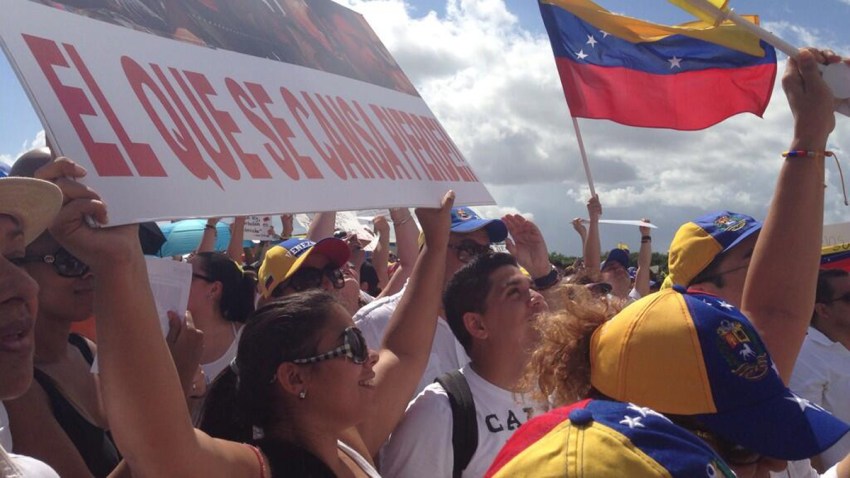 Thousands of demonstrators waved the yellow, blue and red of the Venezuelan flag in cities across Florida in solidarity with the South American country's political opposition movement.
The protests were among more than 150 held worldwide Saturday. In South Florida, cars streamed into J.C. Bermudez Park, in the western Miami-Dade suburb of Doral. Police estimated as many as 4,500 people dressed mostly in white gathered peacefully there. Hundreds gathered in Tampa, with many more in Orlando. The protests were organized by the international nonprofit Un Mundo Sin Mordaza (a World without Censorship), which opposes violence.
Venezuela has faced serious social unrest since Feb. 12. At least eight people have been killed and more than 100 injured. The protesters say they want better security, more freedom of speech and an end to shortages. They oppose the socialist government of Nicolas Maduro, who took the reins of the country following the death of Hugo Chavez in March of last year.
The Statewide protests highlighted the growth of Florida's Venezuelan community. More than 250,000 people of Venezuelan origin call the United States home, according to the Pew Research Center's Hispanic Trends Project. About 40 percent live in Florida, many in Miami suburbs like Doral, a city whose mayor is a Venezuelan native. The city has even earned the nickname "Doralzuela."
Not only is Florida the adopted home of many Venezuelan expats, its universities are also popular with Venezuelans who later return to their country. In January former Venezuelan Miss Universe contestant Monica Spear, a graduate of the University of Central Florida, was killed with her husband while driving in the Venezuelan countryside.
Copyright AP - Associated Press