At the Miami-Dade county courthouse, people are lining up to go over traffic tickets that haven't been paid. Some say they didn't even know about them.
"I don't have any tickets," a woman exclaimed after being told she has five unpaid tickets and owes more than $500.
Judge Samuel Slom says the cost of a ticket has skyrocketed in recent years, leaving thousands in South Florida with debt and a suspended license.
"When those tickets go unpaid, they then get sent to a collection agency. The collection agency tacks on an extra 40 percent. So what the motorists couldn't afford to pay at the outset, now it's enhanced by an additional 40 percent fee on top of that," he said.
NBC 6 Investigators found nearly one million driving licenses were suspended in one year between July 2017 and June 2018.
More than 70% of those suspensions are because of unpaid traffic tickets and court fines.
"When you are assessing a monetary amount that is impossible - what you are doing is punishing the poor," Slom said. "The rich, they can afford to pay their tickets. The rich can afford to hire lawyers to come into court and advocate on their behalf. And guess what, they often get their tickets dismissed."
The judge says traffic tickets help local governments fill budget gaps and therefore tickets have become an important source of revenue.
"Ticket revenue is important to various government agencies because quite candidly they don't want to raise property taxes because that's not popular with voters," he said.
The Florida Clerks of Court Operations Corporation (CCOC) says county clerks have collected over $300 million in civil traffic revenue in the past three years. That's about a quarter of the clerks' annual revenue statewide during that period.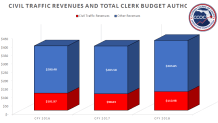 Jason Welty, the organization's budget and communications director, says a decline in traffic revenue can impact clerks' ability to provide "critical core courts services."
He says they view the suspension of a person's driver license as a "last resort, not a first option," but says it's proven to be an effective tool to make people pay what they owe.
Records from the Florida Highway Safety and Motor Vehicles show about half of suspended licenses are reinstated but the process can be lengthy for someone who can't afford to pay the fees right away.
For Jorge Morales, a truck driver whose license was suspended in February, that means not being able to work.
"This is my family's support," he told us. "In this country, without money you can't live."
Others in Florida get suspended for things that have nothing to do with driving like not showing up to court, owing child support and even being a minor with tobacco or alcohol.
Ted Hollander, a lawyer at the Ticket Clinic, says many drivers don't even know they are breaking the law.
"What we've found is that Tallahassee has been very slow to notify people, of that pending suspension and by the time they get notification, it's too late," he said.
Hollander says driving with a suspended license can result in serious consequences.
"If a person is caught driving with a suspended license, they could be charged with a crime, and that crime is punishable by jail."
Judge Slom says having suspended drivers on the road is a problem for all of us.
"You run the risk that people would drive, not have insurance and they will be involved in accidents."
Slom oversees the Miami-Dade's Drive Legal, a court diversion program that allows people to enroll in payment plans and do community service to restore their driving rights. Participants are required to pay a $175 fee to join.
The county's clerk office says more than two thousand enrolled last year and were able to save approximately $1.2 million dollars in collection fees and fines.
Over 800 have joined so far this year.
"For people to want to pay their tickets, there has to be a hope, a finish line that they can accomplish," he says.
A bill is moving through the legislature that would require local courts to have license reinstatement programs that could reduce some fees that are owed.
Welty says CCOC is working with its members, local communities and state legislators to prevent drivers from getting their license suspended in the first place.