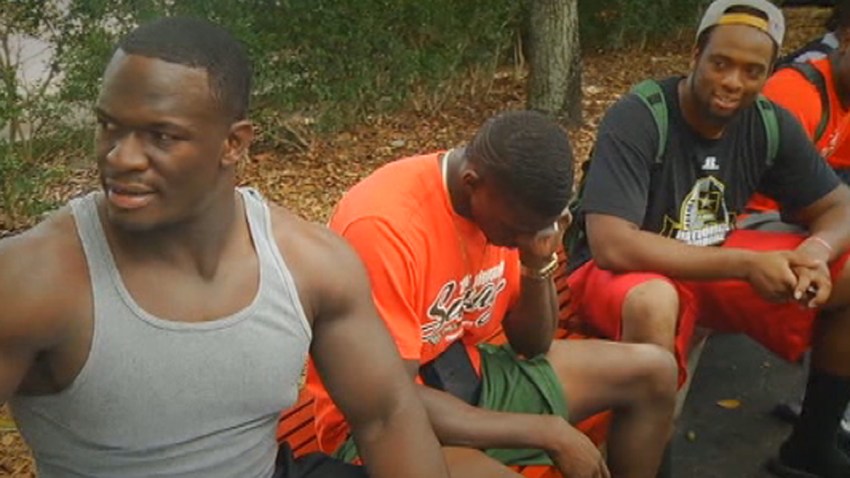 There was a sense of relief and a message of moving on at the University of Miami Tuesday after the NCAA sanctions related to the Nevin Shapiro scandal were handed down.

The message from players, coaches, administration and students was that the sanctions – a loss of nine football and three basketball scholarships – end one chapter and begin another for the Hurricanes.

"We're just trying to move on from it. We're just focused on Wake Forest and trying to get better every week," senior linebacker Shayon Green told reporters. "The mood of the team is great, we're working on Wake Forest, and that's all I'm worried about right now."

"As a team we're just getting ready for Wake Forest, that's it," Just getting ready for Wake Forest, that's all it is, it's focus." sophomore lineman Jelani Hamilton said.

Head football coach Al Golden thanked his athletes for standing by the program.

"I want to sincerely thank our student-athletes and their families who, not only stood with the University of Miami during this unprecedented challenge, but subsequently volunteered for the mission. They shouldered the burden, exhibited class and exemplified perseverance for Hurricanes everywhere," Golden said in a statement. "Further, I would like to express heartfelt appreciation to our staff and families who did not subscribe to this challenge three years ago, yet courageously adopted it as their own. They have brought the utmost professionalism, resiliency and integrity to our program. More importantly, they continue to recruit and represent our world-class institution with class and dignity in unprecedented circumstance.
"Lastly, it is with gratitude and humility that I say thank you to our administration, U Family everywhere and the entire South Florida Community for their unyielding support of our young men and program over the last 28 months."
Several students said they were happy to move forward.
"I am definitely glad, I definitely have a lot of pride for the u so It's always good to hear that we're moving forward," said Melanie Stoddard, a student.
Meanwhile, student Jeffery Sznapstajler, said: "I turned on the news. I found out. I was so happy, only nine scholarships over three years, that's great."
In a statement, the school said it accepted the NCAA's penalties and will not appeal.

"I'm just glad this part is over," UM President Donna Shalala told NBC 6 South Florida in a phone interview Tuesday. "For our fans in particular, I have never seen the university or the community come together like this before. People stood with The U, it was unbelievable."

Shalala said the loss of scholarships, coupled with the self-imposed sanctions of not playing in bowl games the past two seasons, was enough.
"It was very clear we should just accept the additional penalty and move on. It was not in our interest to appeal at this point," she said.

Blake James, UM's director of athletics, also said it was time to move forward.

"Our honest and committed efforts to address these allegations have made us stronger. We have already taken many proactive steps to ameliorate any concerns, and we will continue to improve in all areas," James said. "Now it is time we look ahead and work diligently to support our student-athletes."

Head Basketball Coach Jim Larrañaga said he's happy to be moving forward and excited about the upcoming season.

"We will continue to approach our work with a positive attitude as we march towards being the best we can be. I am grateful to our administration and counsel for leading us through this difficult journey and I want to thank everyone who loves this University and who has supported the young men who proudly wear the Miami uniform. We are excited about the upcoming season and we are all moving forward."

"The University of Miami moves forward today stronger and rededicated to the high ideals that have always sustained it," UM Board of Trustees Chair Leonard Abess said. "I am proud of our leadership and staff, who conducted themselves throughout this process with integrity, forthrightness, and in the spirit of full cooperation."
"Now if you are a recruit, and you are getting offered by the University of Miami, you need to make that decision and you need to be a part of this program because the last time they got put on probation, a few years afterwords they won a national championship," said Don Bailey Jr. a UM football broadcaster. "When I was here in '81 they were put on probation two years later they won a national championship ... It's full speed ahead."