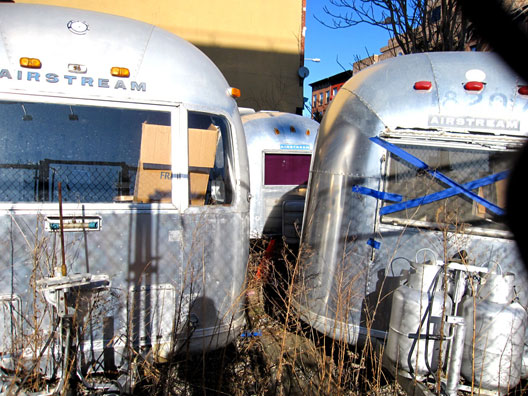 An assortment of vintage trailers and motor coaches will roll through Gainesville, offering a history lesson that will benefit the Alachua Conservation Trust.

The Tin Can Tourists will host an open house on Saturday from 11 a.m. to 4 p.m. at the Prairie Creek Lodge. The all make and model vintage trailer and motor club holds similar open houses across the country.

"This is a unique way to see how people have traveled around Florida for a long time,'' said Tom Kay, executive director of the Alachua Conservation Trust, which is dedicated to conserving land in north central Florida for wildlife and public recreation opportunities.

Kay told The Gainesville Sun that people are coming from across the country to take part in the event. "It's also a great opportunity to learn about Prairie Creek."
Club director Forrest Bone says the group has a long history with the city of Gainesville.

Tin can tourist camps started popping up around the area after World War I. The Sun reports that the camps offered visitors "safe and clean camping areas, wholesome entertainment, and high moral values." At first, people rigged their cars with folding side tents, or converted truckbeds to accommodate sleeping arrangements. Soon, the travel trailers became popular.

In the 1920s, several tourist camps opened around the city. Mayor William Reuben Thomas even promoted tin can tourism.

Bone says the oldest trailer on display Saturday will be a 1948 Spartan Manor. The newest is a 1973 Argosy. Other featured trailers include a 1965 Arrow Little Chief and four models of Airstream trailers, which were manufactured from 1955 to 1964.

The open house is part of a three-day rally.
The Tin Can Tourists group was founded near Tampa in 1919 and renewed in 1998. It's a 3,000-member international club.

"We promote the preservation of history through the history of tourism," said Tom Heintz, the club's southeast regional representative.

Bone says those who attend the open houses feel connected to the history of vintage trailers, adding that people often remember traveling in tin trailers with their grandparents.

"There's a great interest in vintage trailers," Bone said. "We really work hard to educate."
Copyright AP - Associated Press